4 Cryptos That Are Likely To Rule the End Of 2022
Even though it may have begun as an area of investment known as the Wild West that was led by outliers, cryptocurrency is now firmly established as a part of the financial mainstream. Despite recent volatility and governmental crackdowns in China and elsewhere, institutional investors and large banks continue to view it as a meaningful asset.
If you want further evidence of how unstable things are, consider the following: Over the course of the last twelve months, the price of one bitcoin has fluctuated wildly, reaching an all-time high of $68,789.63 on July 1 after starting the period at $17,708.62.
Despite the volatility, many cryptocurrency investors continue to search for the next opportunity to make a significant profit. Continue reading to find out which cryptocurrencies have the potential to become very popular in the near future.
If you are thinking about purchasing cryptocurrencies for the first time, you are probably curious about which one has the potential for the highest return. Bitcoin may appear to be the most apparent option, but it does not guarantee that it will be the best one in 2022.
If you choose a smaller currency that hasn't been artificially inflated in price by institutional investors in the same manner that Bitcoin has, your chances of making a significant profit may be improved.
The following are the top four cryptocurrencies that are expected to dominate the market by the end of 2022.
4 Top Cryptocurrencies Expected to Dominate the Market by the End of 2022
1. Ethereum (ETH)
Ethereum, also known as ether, is the second-largest cryptocurrency in the world after bitcoin. In fact, there have been occasions when ether has even outperformed bitcoin. The amount of ether was reduced as part of a significant update that Ethereum implemented last year.
As of the first of July, there are 121.37 million units in circulation. Additionally, the upgrade makes it possible for the Ethereum network to process more transactions per second, enhances the scalability of the platform, and reduces the costs associated with transactions.
Unlike Bitcoin, Ethereum does not have a limited supply just like the production of Bitcoin which is restricted at 21 million coins, and it is not as widely accepted by businesses and governments as bitcoin is. Ethereum, in contrast to Bitcoin, is not only a medium for the storage of wealth.
It also serves as a foundation around which applications may be developed. Ethereum is the platform upon which other cryptocurrencies are issued, and it also acts as the basis for decentralized financial systems.
The majority of non-fungible tokens (NFTs) and a large number of Metaverse projects (such as Star Atlas, Axie Infinity, and The Sandbox) utilize the Ethereum network. According to Consensys.net, another upgrade, which is scheduled to take place in August, will transition Ethereum to a Web3-ready proof-of-stake mechanism.
This will result in a reduction of 99.5% in the amount of energy consumed, in addition to further improvements in both security and scalability. A significant downturn is presently being experienced by Ethereum, which has caused its value to drop by more than 70% since the beginning of the year.
This decline is roughly comparable to that of other major cryptocurrencies. Investors who have been sitting on the sidelines waiting for the optimal moment to dip their toes into the world of cryptocurrencies may want to consider making a purchase while the price is still relatively cheap.
The currency may also be appealing to existing investors who have already purchased it at a premium price and who stand to profit through dollar-cost averaging.
Buy Ethereum Now
Your capital is at risk.
2. Binance Coin
When measured in terms of trade volumes, the cryptocurrency exchange known as Binance is the most successful. Binance Coin, much like Bitcoin, has a strict cap on the total amount of tokens that can ever be in circulation; in this case, that cap is set at 165,116,760 tokens.
This contributed to the exponential growth in the price of the coin in 2021. In addition, each quarter, around one-fifth of Binance's revenues are allocated toward the "burning" of BNB tokens, which is the process of destroying them permanently and increasing the value of the tokens that are still in circulation.

Because Binance uses two different blockchains, it is less susceptible to the same kinds of bottlenecks as Ethereum is. Additionally, it is quick and scalable, and, according to Seeking Alpha, Binance is now working to make the platform more acceptable to regulatory authorities.
This is a characteristic that might be essential to the platform's durability and wider use. According to CoinMarketCap, cryptocurrency exchange Binance has just introduced a fiat-to-cryptocurrency payment platform called Bifinity.
This platform will assist businesses in becoming ready to accept digital assets as payment. More than fifty different cryptocurrencies in addition to major payment networks like Visa and MasterCard are supported by the payment processing platform.
Additionally, working in favor of the Binance coin is the fact that it beat Bitcoin and Ethereum in terms of performance in the previous year and appears to be positioned to do so again this year.
According to Investor Place, the Binance exchange has suggested that it would expand into Europe, which means that Binance coin might be poised to take off as soon as the exchange does so.
The launch of Binance coin is being investigated by the Securities and Exchange Commission to see whether or not Binance violated any applicable regulations in the process. Prices of BNB might be negatively impacted by a significant fine or other consequence.
Buy BNB Now
Your capital is at risk.
3. Battle Infinity
You may participate, act, watch, and explore all inside the confines of this engaging play-to-earn platform that is Battle Arena. Battle Arena is a virtual world.
In case you were curious about what a virtual fantasy sports game is or how it works, this is how it is played. Fantasy virtual sports may be based on virtually any popular sport. The players are then taken to a virtual platform, where they may create their own virtual teams and compete against those of other players.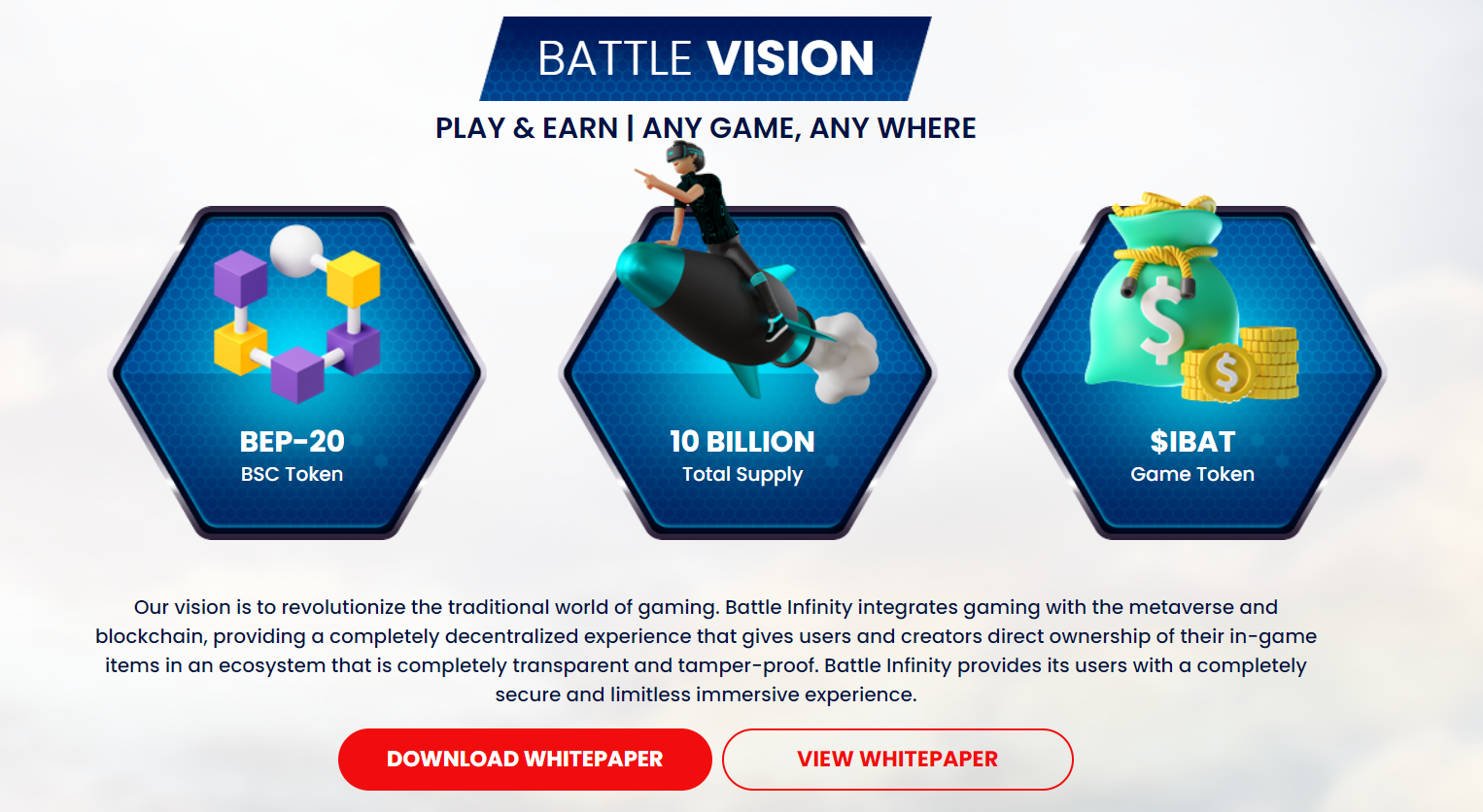 Players are rewarded crypto tokens that have a value in the real world depending on how well they do in the game. In a blockchain and Metaverse setting, Battle Infinity raises the standard for competitive gaming.
The advanced gameplay techniques of Battle Infinity are designed with the goal of attracting traditional gamers to Web3. To give gamers with a comprehensive gaming ecosystem, six separate products are currently in development:
Battle Swap, a decentralized cash exchange that also acts as a bank for the Battle Infinity ecosystem. Battle Swap was developed by Battle Infinity. You may simply acquire IBAT tokens with the use of this site, and you can exchange the incentives you earn for other currencies. The arena, the gaming shop, and the marketplace are all a part of this structure now.
The Battle Market serves as a marketplace for tokenized in-game assets such as characters and equipment. These goods may be bought and sold using tokens. The value of the assets is determined by how uncommon they are.
Battle Games is a multiplayer gaming store that gives customers access to a wide selection of non-fee-to-play pay-to-win games.
The Battle Arena, which is a domain within the Metaverse to which only specific avatars have access. In addition to competitions, it also plays host to musical performances and social gatherings.
Battle Staking is a platform that allows you to stake your assets in exchange for rights and benefits within the ecosystem. You can get more information about this feature here.
The IBAT Premier League, which has the distinction of being the very first NFT-based sports fantasy game available in the Metaverse.
The setting of Battle Infinity is made up of a combination of play-to-win and Metaverse elements. The BEP20 Battle Infinity utility token, known as IBAT, is the connection between the aforementioned six goods. It is necessary to have this in order to access any of the Metaverse's features.
Invest in Battle Infinity Presale Now
Your capital is at risk.
4. Tamadoge (TAMA)
One of the most spectacular bull runs in the history of cryptocurrencies was experienced by Dogecoin, closely followed by Shiba Inu. Regardless of the viewpoints held by investors, this illustrates that meme currencies are well received by the general population and thrive in bull markets.
On the other hand, they often revert to their previous state and lose all of their development. This might be due to the fact that they have a big supply (like SHIB, which has a supply of one quadrillion), that they create inflation (Dogecoin's supply of 100 billion has climbed to 132 billion), or that they do not have sufficient utility and use case to retain their value.
Tamadoge plans to change this by implementing the common play-to-earn feature into the structure of meme tokens. This will allow users to earn meme tokens by playing games. At this point in the presale process, the early beta selling phase has begun. After that point, there will be a rise in the price of the TAMA tokens during the presale.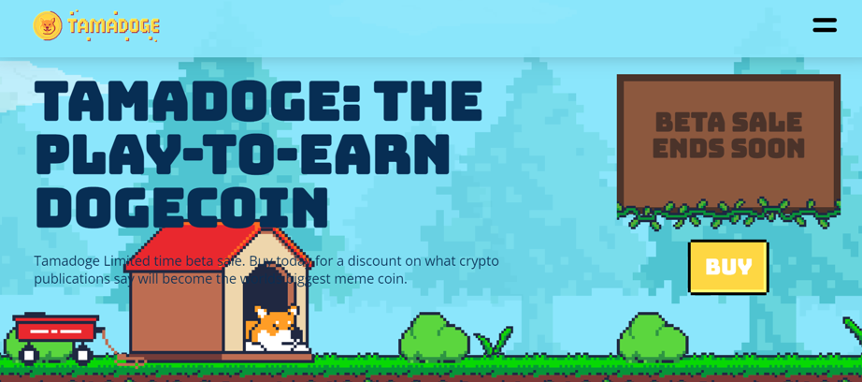 This player-to-environment (P2E) gaming platform makes a play on the term Tamagotchi, and it will also make use of non-fungible tokens (NFTs) to represent the doge pets that users will mint, train, breed, and fight with in order to climb the leaderboard and win TAMA tokens.
Tamadoge (TAMA), the country's indigenous currency, also has deflationary tendencies. There is a 5% discount applied to each and every purchase of pet food made in-game through the Tamadoge store. Its initial supply will also be set at 2 billion TAMA coins, following the same pattern.
Following the conclusion of the presale, the ERC-20 token known as TAMA will be made available on Uniswap. Although PancakeSwap and Uniswap are not now DEXs, both of these exchanges will become DEXs in the near future. On the other hand, TAMA has already announced its inaugural CEX listing on Lbank, which will improve the trading volume and upside potential of this new cryptocurrency asset beginning in the fourth quarter of 2022 and continuing into 2023.
You can find the road map and white paper at tamadoge.io. There, you'll also find a detailed guide on how to buy TAMA using a MetaMask wallet and Ethereum. For TAMA transactions, as well as USDT and debit and credit cards, Transak offers these payment methods.
Invest in Tamadoge Presale Now
Your capital is at risk.
Read more-
These are the Best Cryptos to Buy in 2022
This is the List of Best DEX Coins of 2022
How to Buy Lucky Block – Detailed Guide
Will This Token Overtake Axie Infinity Shards (AXS)
Best Crypto Signals for Profitable Trading
Battle Infinity – New Crypto Presale
Presale Until October 2022 – 16500 BNB Hard Cap
First Fantasy Sports Metaverse Game
Play to Earn Utility – IBAT Token
Powered By Unreal Engine
CoinSniper Verified, Solid Proof Audited
Roadmap & Whitepaper at battleinfinity.io