5 Next Cryptocurrency to Explode – August 2022 Week 2
The cryptocurrency market has sagged a little after a brief spurt at the start of the week. It's total value of $1.13 trillion represents a 3.5% dip in the past 24 hours, although it's up by 3% in the past week and by 19% in the last 30 days. Most coins are down in the past day, with the market rising a little over the medium term, there's a chance that an overarching long-term recovery may have begun. So with prices poised to rise upwards (assuming macroeconomic improvements), here's our pick of the 5 next cryptocurrency to explode.
5 Next Cryptocurrency to Explode
1. Battle Infinity (IBAT)
Battle Infinity (IBAT) is a new play-to-earn crypto gaming platform that has already generated plenty of excitement. Running on Binance Smart Chain, its token presale sold out with 71 days left to spare. It reached its hard cap of 16,500 BNB (equal to around $5.3 million) in more or less a couple of weeks. BSC Scan also reveals it now has 5,000 holders, up from 0 barely two weeks ago.
Based largely in India, Battle Infinity is developing a sports-themed play-to-earn gaming metaverse. This will be populated by such games as the IBAT Premier League, which lets players build their own fantasy sports team, made up of NFTs representing real-life athletes. They win points and IBAT tokens based on how well their teams perform.
In addition to the IBAT Premier League, there will also be s a competitive staking feature, a DEX, and an NFT marketplace. The scale of such ambitious is probably a big part of the reason why IBAT's presale sold out so quickly, and it's also why it's one of our 5 next cryptocurrency to explode, once it receives its first listing.
🙌🏼Battle Stake is our staking platform where you can battle against stakers to get higher APYs.

There are 3 types of staking that we are introducing:
•SOLO STAKING
•DUO STAKING
•CRATES STAKING

#staking #battleinfinity #presale #StakingRewards pic.twitter.com/bYzIobl8Bh

— Battle Infinity (@IBATOFFICIAL) July 18, 2022
Buy IBAT Now in Presale
2. Ethereum (ETH)
At $1,697, ETH is down by 4% in the past 24 hours but up by 3.6% in a week. It has also increased by 18% in a fortnight and by 45% in a month.
One interesting factoid about ETH is that it's actually less far away from its all-time high ($4,878) than bitcoin (BTC) right now. This is because the market has begun pricing in the much-awaited Merge, whereby Ethereum will shift to a proof-of-stake consensus mechanism. This anticipation has sent ETH's relative strength index (in purple) rising to nearly 70, indicating very good momentum. Its 30-day moving average (in red) is rising rapidly towards its 200-day average (in blue), signalling a breakout at some point.
Traders may see further rises today, given that the Goerli testnet is due to conduct its own merge today. This will be the final test merge before the real thing, meaning that a successful test will essentially give the green light to complete the move to PoS. This could see ETH rise meaningfully in the next few days.
More broadly, the move to proof-of-stake could change ETH's tokenomics such that it suffers a supply squeeze and becomes deflationary. Long term, this will be put big upwards pressure on its price, which is why it's one of our 5 next cryptocurrency to explode.
The Ethereum PoW -> PoS merge next month is big:

– $7.5B+ in annual supply pressure lifted

– Transaction fees get burned, ETH becomes deflationary

– Energy consumption decreases by ~99.9%

— Nick Tomaino (@NTmoney) August 2, 2022
3. Lucky Block (LBLOCK)
At $0.00062991, LBLOCK has dropped by 2.5% in the past 24 hours. It's also down by 57% in a week and by 29.5% in the last 30 days.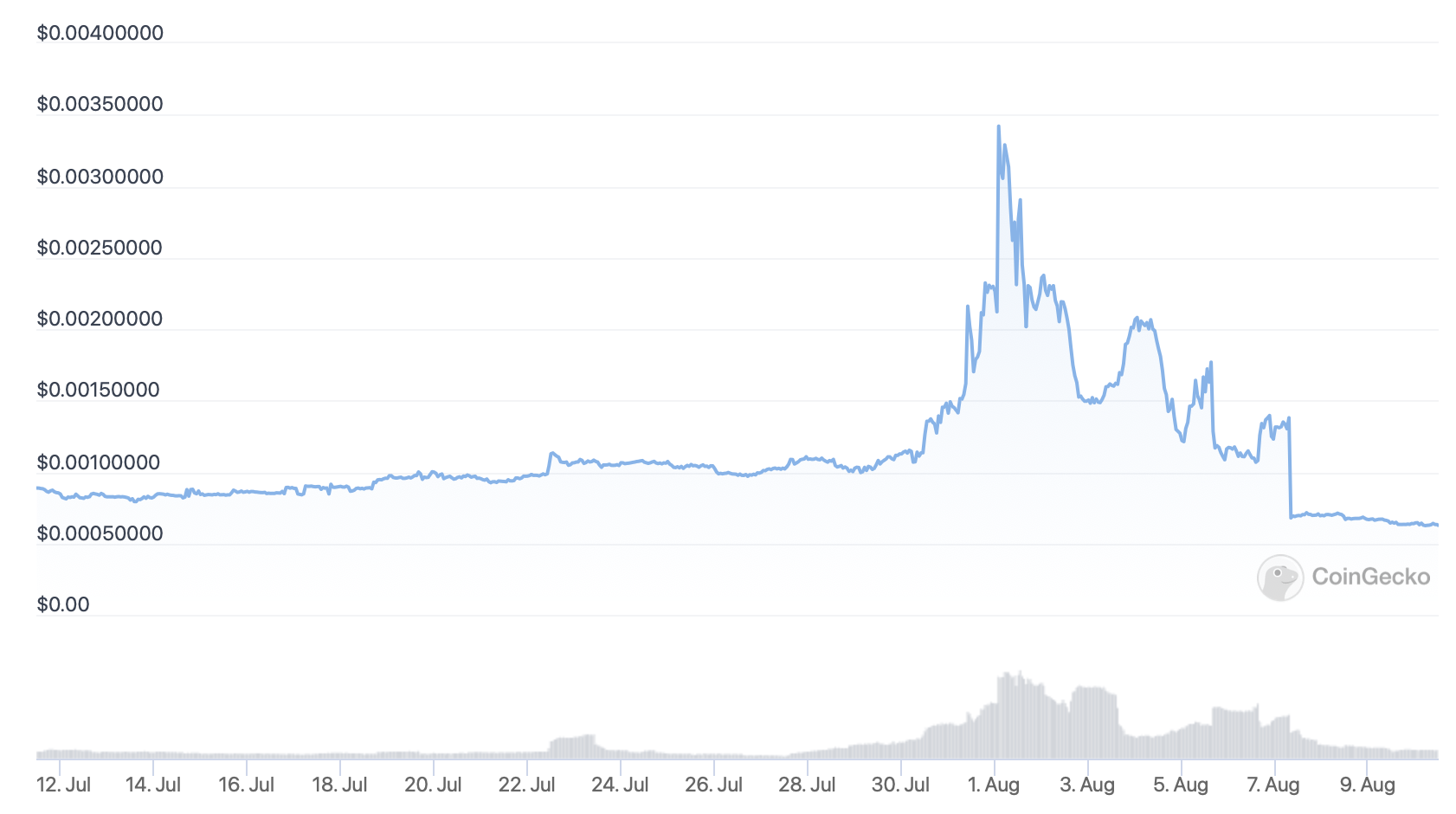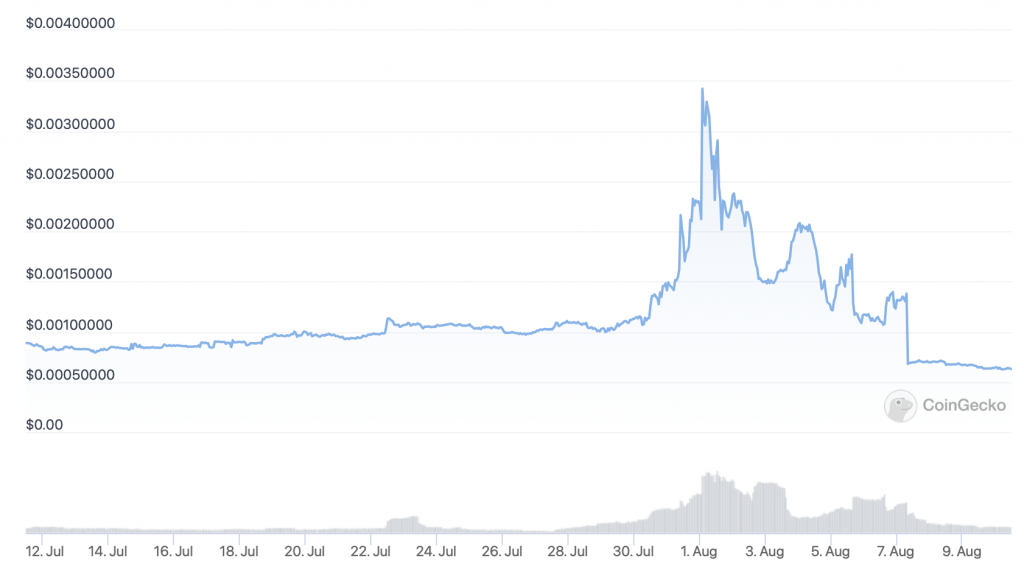 Despite LBLOCK's fall in the past few days, there are a number of reasons to be optimistic about its future, and to see the current drop as a good opportunity to buy it at a discount. Most notably, it has launched the Ethereum-based second version of its token, which has been accumulating a stream of new listings. This includes Uniswap, as well as MEXC Global and LBANK Exchange, all of which will increase liquidity for the altcoin.
$LBLOCK V2 Tax Free Trading Is Now Live on @Uniswap🔥

Become a holder of V2 token, that has gained 250% in the first couple of days and is expected to continue rocketing!🚀

Simply

➡️ Go to https://t.co/iQy9Pc5JTA pic.twitter.com/puHhZL91aF

— Lucky Block (@luckyblockcoin) August 8, 2022
Turning to fundamentals, Lucky Block has also recently expanded its games ecosystem to include various NFT-related competitions. By purchasing a Lucky Block NFT, users will now be able to enter a number of prize draws. This includes draws for Bored Ape Yacht Club NFTs, $1 million in bitcoin, a luxury holiday, a FIFA World Cup package, and also a house worth $1 million.
Gm #LuckyBlockArmy! 🌞

Quick reminder about the Live Demo of our NFT competition platform! 🦾

This Exclusive video walkthrough will be hosted on Discord at https://t.co/sfgeRiWuVa 🤞

Date – 28th of July 🗓
Time – 2pm BST ⏰ pic.twitter.com/3FQ4oZWExw

— Lucky Block (@luckyblockcoin) July 26, 2022
On top of this, all holders of LBLOCK will soon be able to claim their equal share of 10% of each daily prize fund. They'll be able to do this simply by heading over to the Lucky Block web app and voting for a charity that will receive donations.
4. Lido DAO (LDO)
LDO has risen by 3.8% in the past 24 hours, at $2.31. While it's down slightly in the past week (0.6%), it also happens to be up 61% in the last week and by 260% in the last 30 days.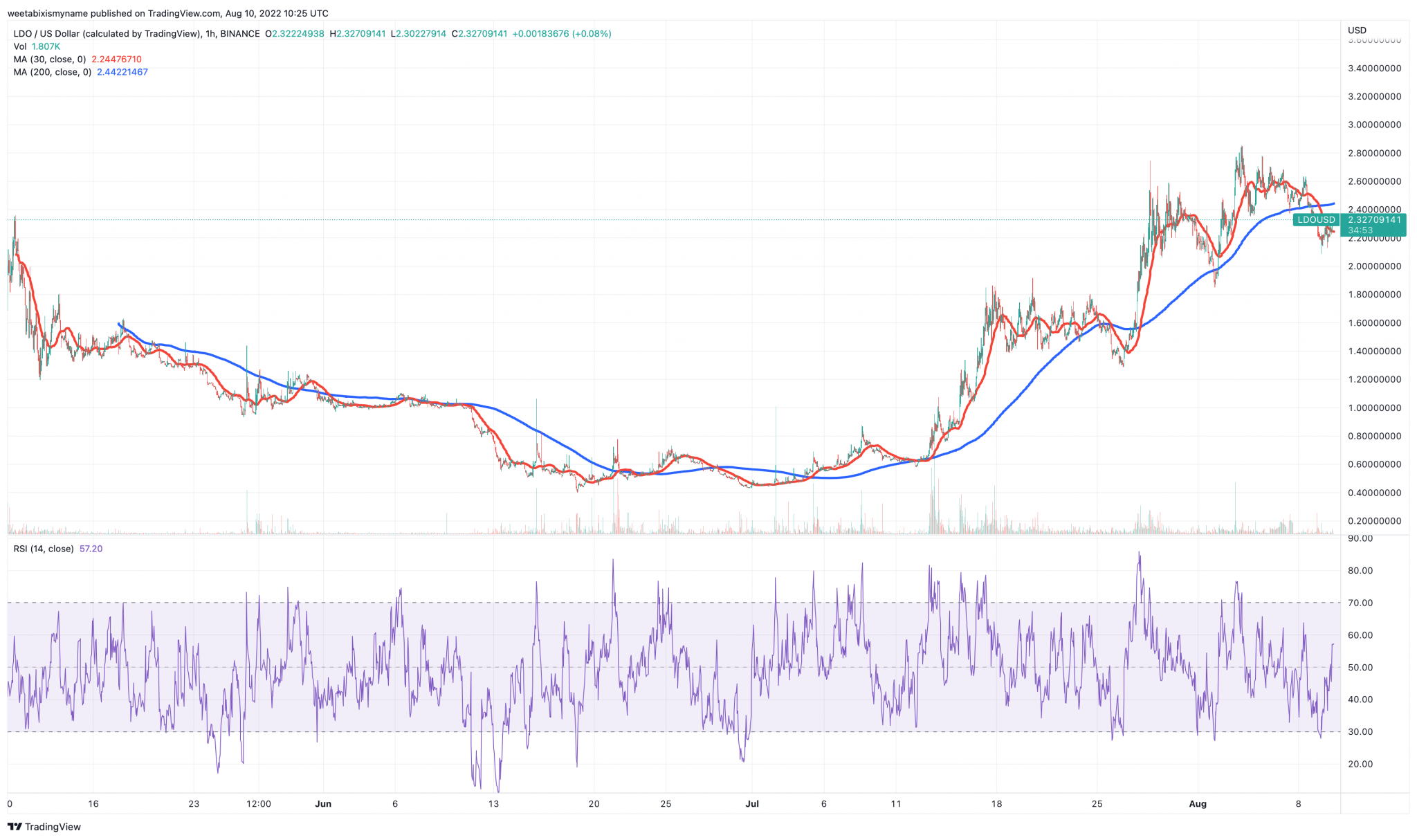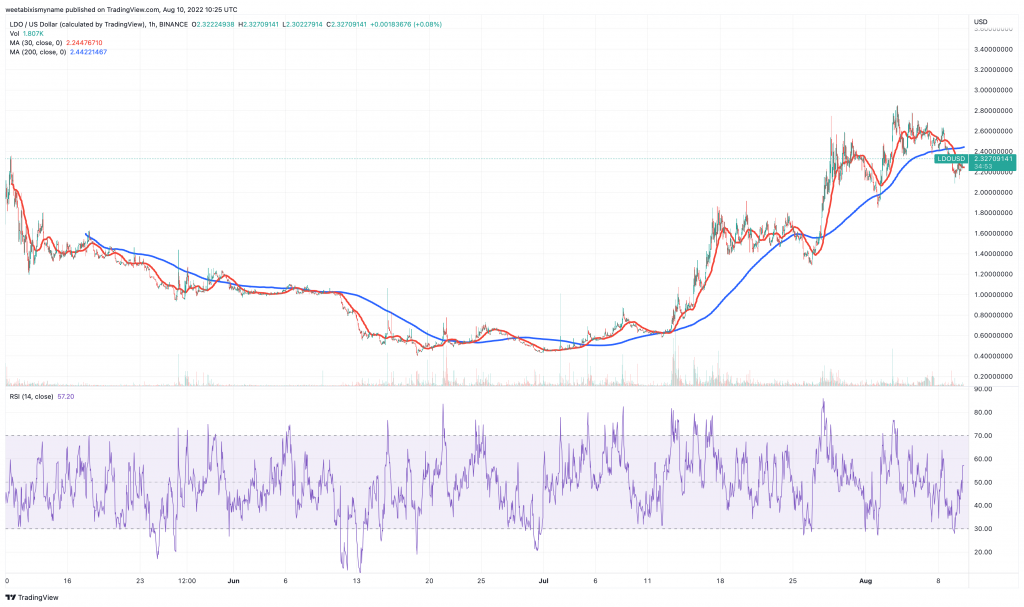 LDO's indicators suggest more upwards movement to come in the near future. Its RSI has jumped from under 30 about a day ago to nearly 60 as of writing. Likewise, its 30-day average appears to have flattened out and may begin rising to overtake its 200-day average.
One of the main reasons why LDO has had a good few weeks is Ethereum. Lido happens to be one of the biggest multi-chain staking platforms in crypto, and Ethereum's move to PoS will mean more demand for Lido's services. To this end, it's launching staked ethereum (stETH) — a derivative crypto that is issued when people stake ETH on Ethereum's new Beacon Chain — on layer-two chains, such as Argent.
Lido is launching stETH on Layer 2 🏝️

Ethereum is scaling, and so is Lido.

Lido stakers will soon be able to use their stETH assets in DeFi on Layer 2.

Read more about it here: https://t.co/QCsQry4V41

— Lido (@LidoFinance) July 18, 2022
This ability to use stETH on layer-two networks will be of big use to people who want to use the altcoin for DeFi purposes. In turn, it will increase usage of Lido's network, which has already become the second-biggest DeFi protocol in the market in terms of total value locked ($7.43 billion).
In other words, expect Lido to become big once Ethereum's shift to PoS is completed.
5. Flow (FLOW)
FLOW is down by 3.5% in the past 24 hours. At $2.83, it nonetheless remains up by 50% in a week and by 72% in a month.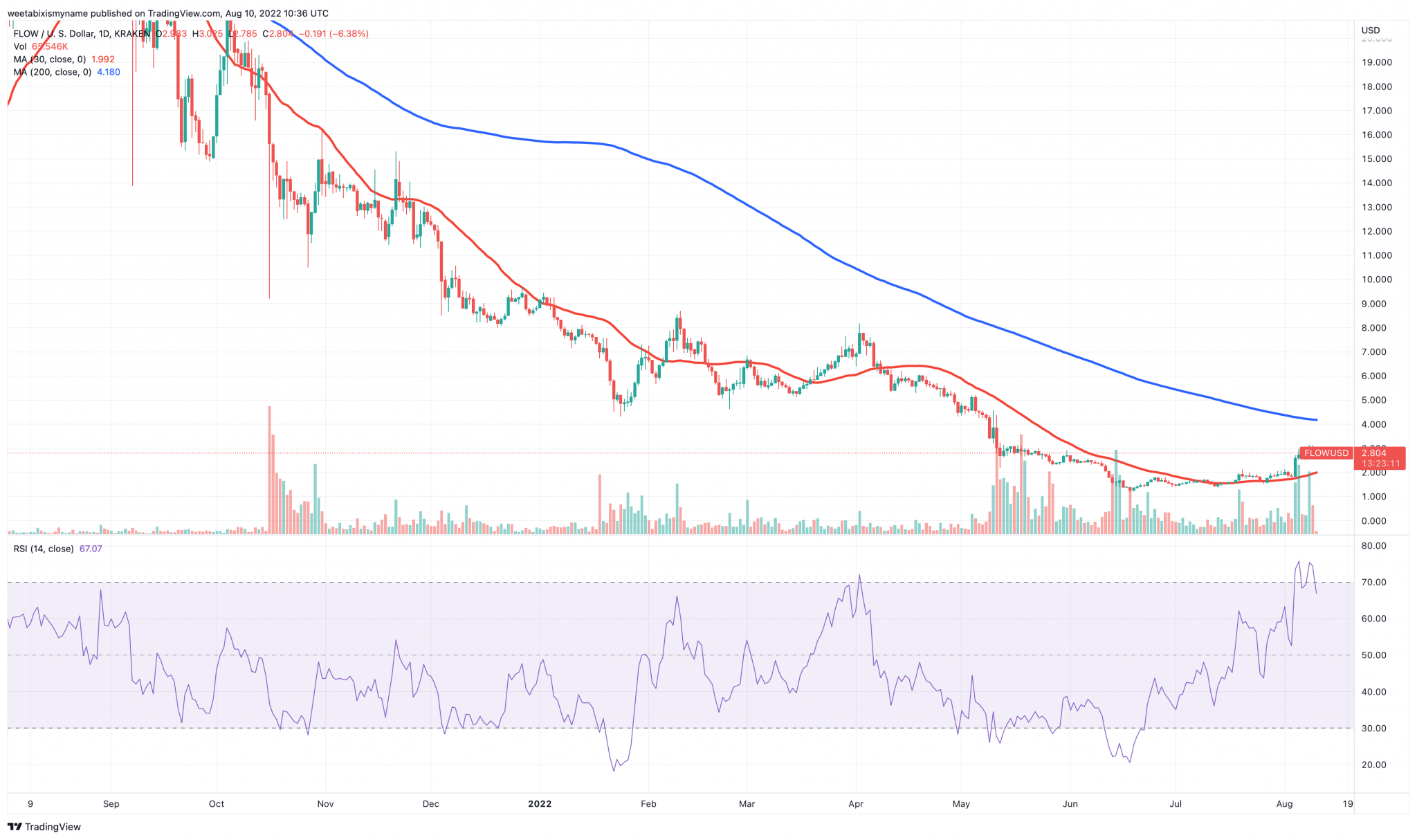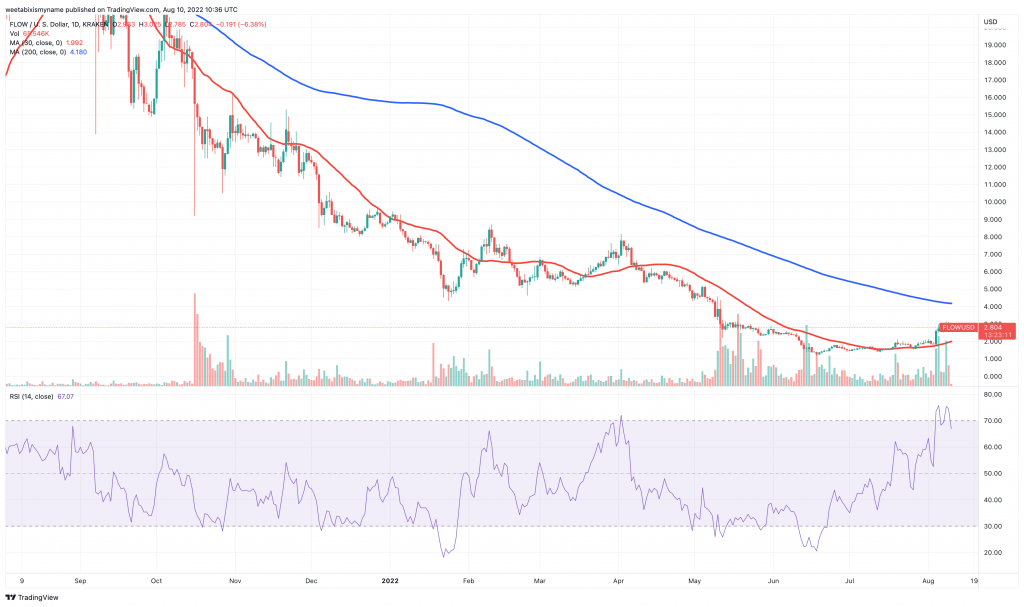 Despite its dip in the past day, FLOW's indicators remain encouraging. Its relative strength index (in purple) has shot up from just under 40 at the beginning of August to 70 today. Meanwhile, its 30-day average appears to be in the process of climbing over its 200-day, suggesting it has more room to rise.
A layer-one blockchain designed specifically for Web3, NFTs and games, there's a simple reason why Flow's native token has been rallying in the past few days. Flow recently announced a massive partnership with Instagram. This partnership means Flow users can connect their wallets to their Instagram accounts and share their Flow-based NFTs with other people.
Today's the day 🥳

Our partnership with @instagram begins rolling out, which means select users can now connect their @hellodapper wallet and showcase their favorite NFTs directly on their account!

Access will be rolling out all month, so get ready for #FlowOnIG pic.twitter.com/hOGPt21NWU

— Flow (@flow_blockchain) August 4, 2022
Not only is this a huge endorsement for Flow, but Meta and Instagram's support could provide it with a launchpad to expand to bigger things in the future. Its total value locked in has risen by 27.8% in a couple of weeks. And with it remaining 93% down from its all-time high of $42.40 (set last April), there's plenty of opportunity to recover. This is why it's one of our 5 next cryptocurrency to explode.
Your capital is at risk.
Read more:
How to buy Cryptocurrencies
How to buy Lucky Block
Where to buy Battle Infinity
How to invest in Ethereum
Best cryptos to invest in