5 TOP CRYPTO TO BUY THIS WEEK – BTC, ETH, SOL, MANA, SAND – END OF NOVEMBER 2021
The crypto market is steadily recovering, and several investors are searching for the top crypto to buy this week. Across the board, the broader crypto market is catching some tailwinds and is up 4.41% in the past 24 hours.
Cryptocurrencies are now viewed by many as a safety net with inflation concerns steadily picking up steam. Some of the top crypto in the market this week are discussed below.
1. Bitcoin (BTC)
Bitcoin has remained a top favourite among investors despite seeing a price slump from its high price peg in recent weeks. The benchmark crypto for the decentralised economy is the most recognised crypto brand and the most heavily invested.
The premier digital asset controls upwards of 40% of the $2.5 trillion crypto market and is seen as a better hedge against inflation than gold due to its deflationary mechanism. This status makes Bitcoin a top crypto to buy this week as the crypto market welcomes back the bulls.
Bitcoin's price gain comes following a US Consumer Price Index report which shows the inflation rate for all items rose 6.2% in the last 12 months, reflecting a high figure since 1990. Market experts had previously predicted a 5.9% increase, which has led to Bitcoin making a slight comeback.
The news saw the foremost virtual currency surge from a mid-month low of $53,576.74 to $57,793.31 in the early hours of today. Now, Bitcoin is trading at $56,850.55, up 4.80% in the last 24 hours.
Meanwhile, BTC is trading below the 20-day moving average (MA) support price of $59,681.47, pointing to a good price peg to enter the market.
The premier digital asset has largely seen an uptrend after a price slump, and coupled with inflation fears, Bitcoin is a top crypto to buy this week for a bargain.
2. Ethereum(ETH)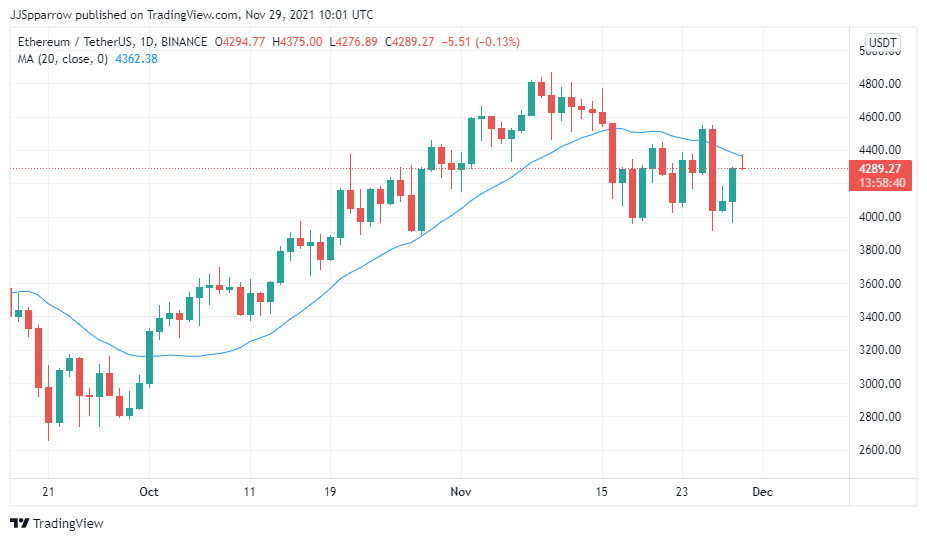 Ethereum has largely tailed Bitcoin and has seen its value rise in the green zone as the large-cap asset begins trading upward. Expected to launch as a proof-of-stake (PoS) protocol in the coming year, Ethereum is a top crypto to buy this week.
Ethereum's ordeals largely lie with a large amount of the decentralised ecosystems under its umbrella. The second-largest crypto-asset controls about 97% of decentralised finance (DeFi), non-fungible token (NFT), and metaverse ecosystems. This control makes ETH a principal player in the decentralised economy that is currently being fashioned out.
Keeping in tune with the price gains of Bitcoin, Ether is up 5.80% at press time, with a price peg of $4,289.27. Although the foremost altcoin is trading below the 20-day MA price of $4,375.92, Ethereum has seen a 12-month trailing rally of 598.88%.
Ethereum has proffered short-term solutions to its scalability through the use of layer two protocols called zK Rollups. One of such is Polygon which has become a top destination for users looking to interact with the Ethereum network rapidly and cheaply.
3. Solana (SOL)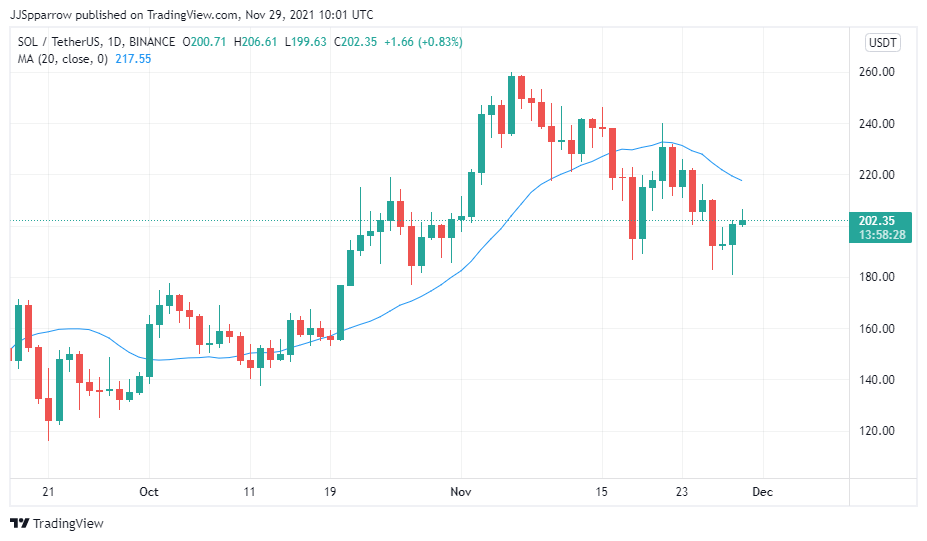 Solana has been a breakaway star in the galaxy ruled by Bitcoin and Ethereum. Solana, a new generation protocol, aims to engender a massive adoption of blockchain technology and is prominent in the fast-rising DeFi and NFT ecosystems. Leveraging dual consensus mechanisms in the proof-of-stake (PoS) and proof-of-history (PoH), Solana enables a highly scalable, environmentally-friendly, and economical blockchain ecosystem.
Network fees are as low as $0.00025, making Solana a top destination for developers and ordinary DeFi users alike. SOL is a top crypto to buy this as more importance is placed on economical scalable networks.
The Solana blockchain has kept in tandem with other Ethereum rivals and has made its carbon footprints as low as scientifically possible. In a recent report by the Solana Foundation, 1 SOL transaction consumes 24 times less energy than is required to charge a phone. Overall, transactions on the Solana blockchain takes about 0.00051 kWh or 1,836 Joules of energy.
Price-wise, SOL has seen meteoric growth in the past year. Year-to-date (YTD), SOL has spiked 13,527.68% following a run of form to over $250. At press time, SOL is trading at $202.35, up 7.44% on the daily chart. With growing partnerships and recent forays into more blockchain-based services, Solana is a top crypto to buy this week for long term gains.
4. Decentraland (MANA)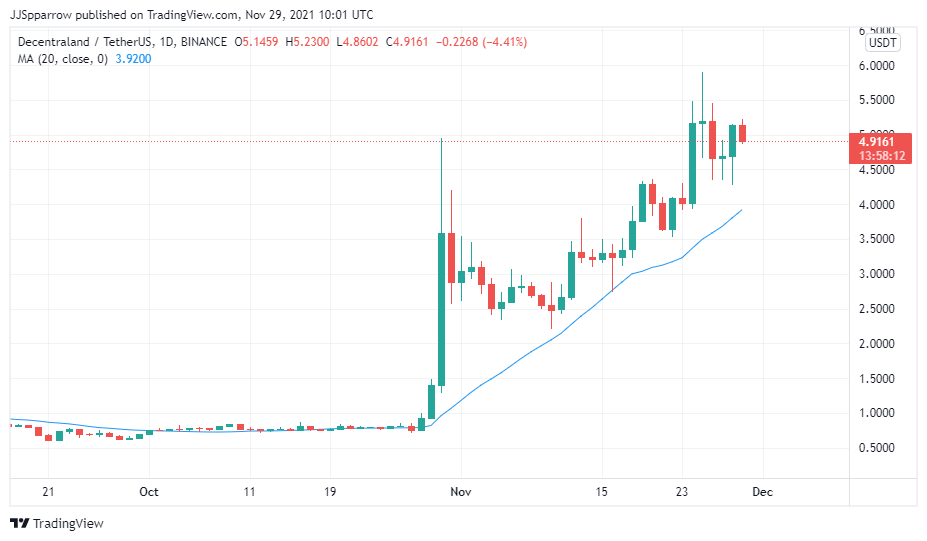 Decentraland has seen an astronomical rise in value since this month. The Ethereum-based token has largely capitalised on the growing interest in the metaverse to fledge a strong price movement since November began.
Decentraland is a non-fungible token (NFT) protocol that enables the purchase of virtual plots of lands. Aside from this, users can also create, share, and monetise content and applications in the Decentraland metaverse.
Price-wise, Decentraland has been one of the outlier virtual assets in the crypto market as its governance token MANA has rallied 39.89% in the past month.
The 12-month trailing increase stands at a remarkable 5,551.66%, with a YTD surge of 6,324.25%. MANA is up 6.95% at press time and has been trading at $4.9161 in the last 24 hours.
The metaverse token also launched 3D wearables on its Decentraland Marketplace, following a slew of major partnerships in the past weeks.
5. The Sandbox (SAND)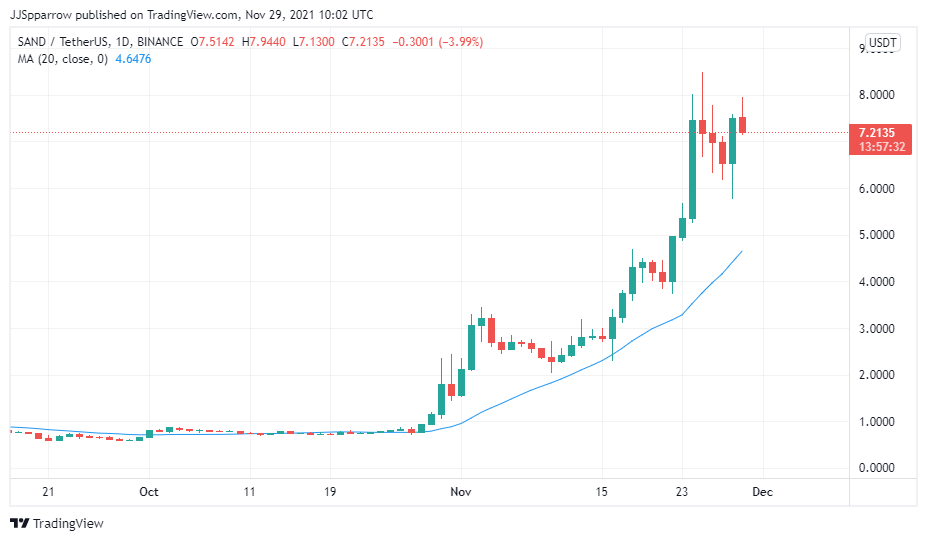 The Sandbox is another metaverse-oriented protocol that has flourished from the recent institutional plunge into the virtual reality ecosystem. Although still under heavy development, The Sandbox has seen a significant uptrend in recent weeks and is a top crypto to buy this week.
The Sandbox's SAND surged from under $2 in October to an all-time high (ATH) of $8.40 on November 25. Although SAND has seen some of the gains shaved off, the NFT-oriented token maintains a strong bullish disposition and is up 16.85% in the past day. This rise sees the ERC-20 token trading at $7.2135, worlds apart from its 20-day MA price of $4.6738.
The Sandbox's recent price gain follows a metaverse push by footwear giant Adidas. The Sandbox reportedly earmarked a virtual parcel of land to Adidas to consider choosing a metaverse ecosystem to fledge out their blockchain ambitions.
Read more:
How to Buy Bitcoin Anonymously
How to Buy Decentraland Coin – Invest with Low Fees Today