5 Top Crypto to Buy This Week [LBLOCK, XTZ, SOL, MANA, AAVE] February 2022 Wk 2
February is well underway, and many investors are looking for the top crypto to buy as they focus their sights on bigger gains this month. With the market showing a strong performance last week, the race is on to find the perfect coins to take your portfolio to the moon.
We have outlined below some of the best coins to buy right now based on investor sentiment and analysis.
1. Lucky Block (LBLOCK)
LBLOCK is the native token for Lucky Block, and it kicks off our list of the top crypto to buy this week. The asset made waves in January when it completed its presale, and demand for LBLOCK has been on a pretty steady rise.
As expected, the main utility for LBLOCK comes from the Lucky Block platform itself. The service hopes to disrupt the gaming and lottery business, allowing people to come in from wherever they are and enjoy the online game. Lucky Block uses blockchain technology to create a gaming world where everything is fair and transparent.
As for LBLOCK, the asset works as a platform token. Users can purchase it in place of tickets, and the fact that it is readily available means that anyone can get their hands on it. As expected, LBLOCK can also be traded for money.
Currently, LBLOCK is still in its early days. The asset is currently enjoying massive publicity as it gains more momentum. Last month, it was listed on Pancakeswap – one of the most popular decentralised exchanges in the world. An influx of investors like that is part of why the asset is up by 26% in the past 24 hours.
We also see long-term potential in LBLOCK. The Lucky Block developers are currently working on a mobile app that will bring in more players, and there are rumours of LBLOCK planned listing on more exchanges like Binance.
2. Tezos (XTZ)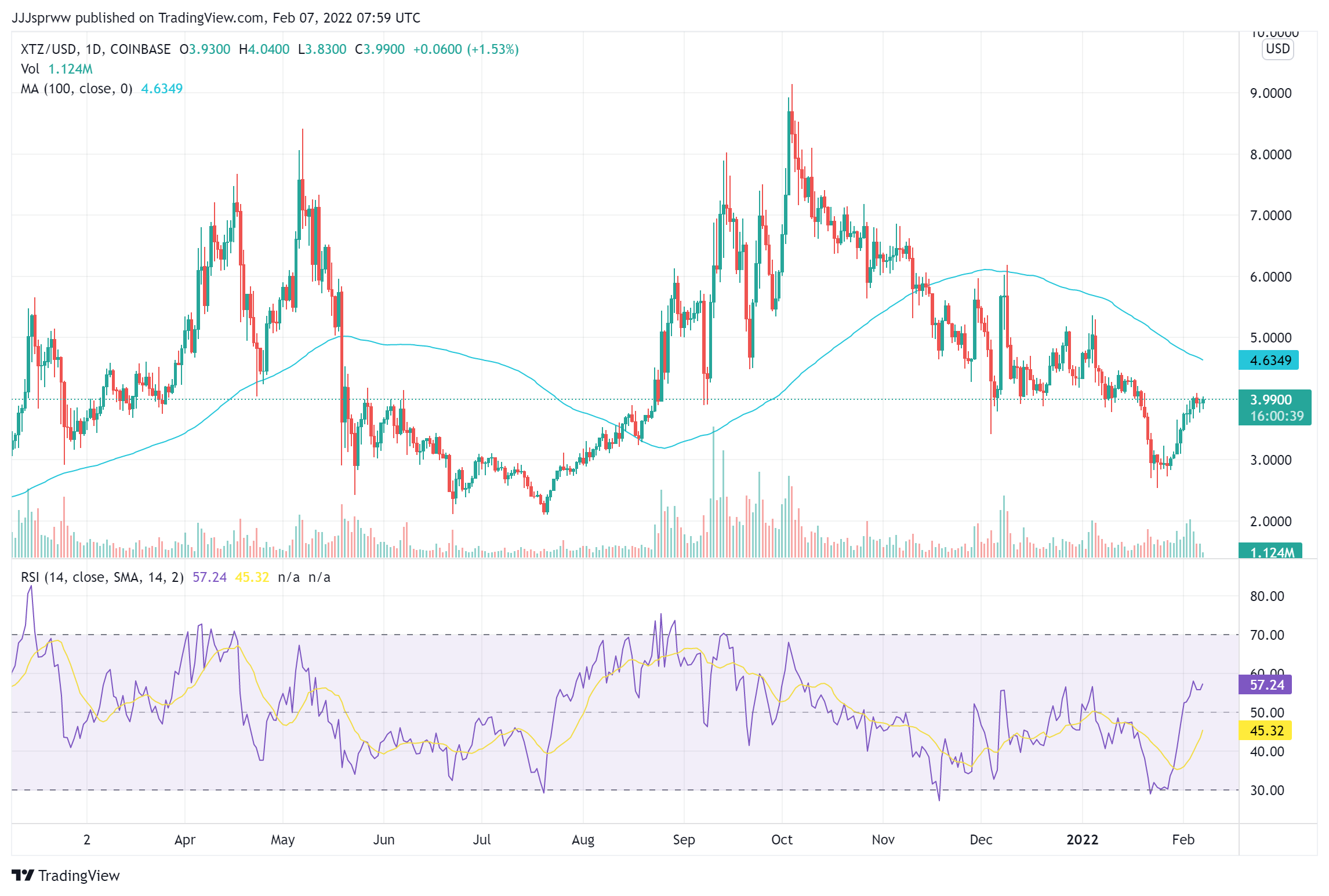 Next on our list of the top crypto to buy is XTZ. Running on the Tezos blockchain, XTZ has never been one of the most popular coins in the market. However, the Tezos Foundation appears to be taking its place in the market more seriously, especially when presenting the blockchain as a competitor.
The biggest driver of gains for XTZ appears to be the multi-year deal between the Tezos Foundation and Manchester United – one of the world's biggest football clubs.
The deal, valued at about $27 million a year, will see the Tezos logo appear on all Manchester United training gear. Big sports names like Cristiano Ronaldo and Paul Pogba donning Tezos-branded gear will be a marketing hit for the blockchain company.
While the Man. United deal will definitely push marketing, Tezos is also showing some strong fundamentals. Non-fungible token (NFT) activity on the chain is surging, with a recent CoinShares report showing that the number of transactions involving smart contracts on Tezos has jumped to over 50,000 daily – compared to less than 10,000 daily in January 2021.
CoinShares notes that the jump is due in part to rising NFT activity, as well as support for Tezos on the gaming giant Ubisoft's platform. Long term, XTZ could be a major hit.
3. Solana (SOL)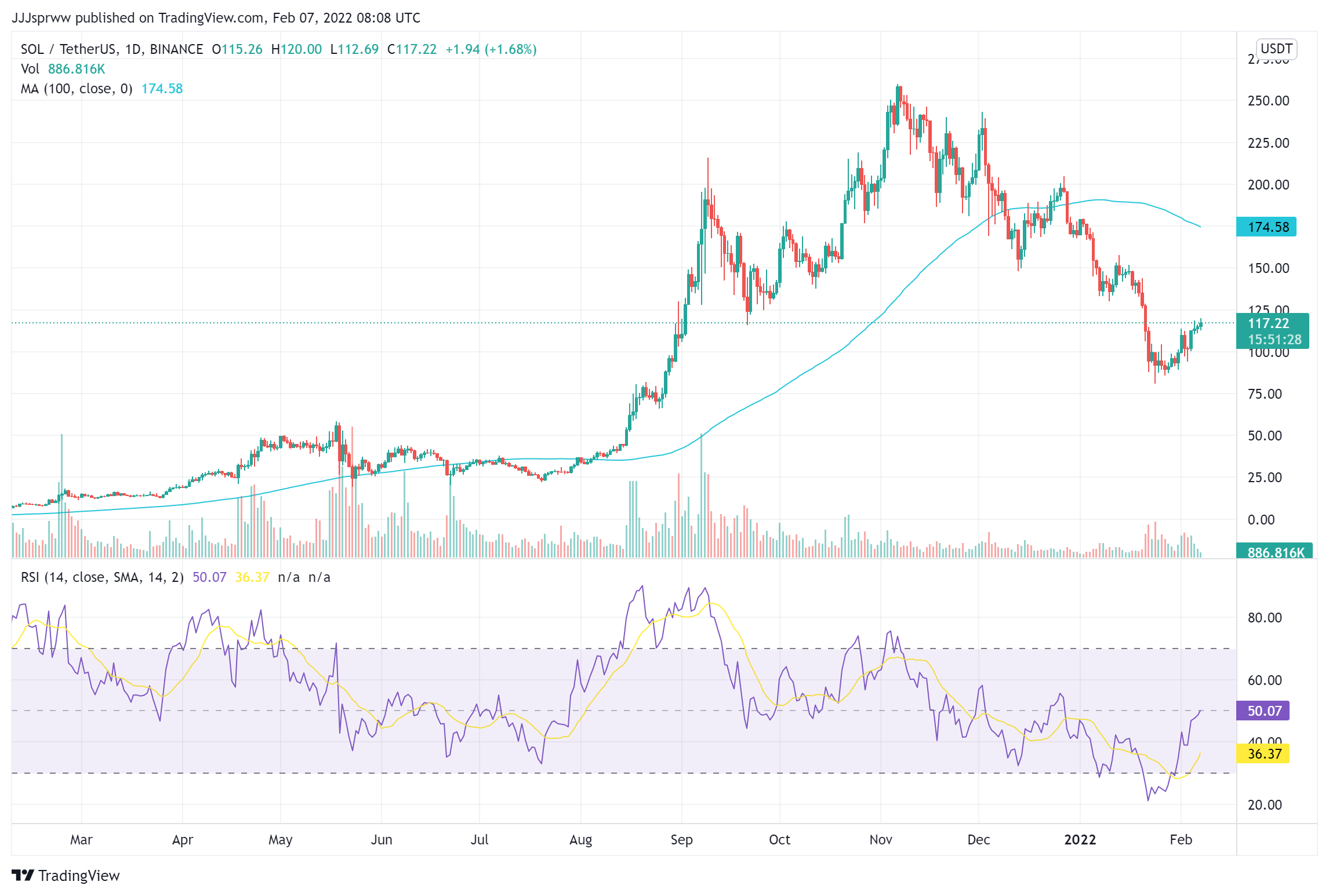 Solana's SOL token has been a hot-ticket item in the crypto market for months. As a large-cap coin, it's no surprise that the asset features on our list of the best coins to buy right now.
The growth of Solana is no news. 2021 was a bully year for the blockchain and its token, with the latter rising by almost 10,000% – even with December's bearish run. Now that it has lost over 50% of its value since its all-time high, SOL is more than a bargain at the moment.
So, why should you focus on Solana? For now, it's because things just seem to be going right for the blockchain. Last week, the Crypto Carbon Ratings Institute (CCRI) released a report on blockchains' energy consumption and found that Solana is the greenest among the major proof-of-stake (PoS) blockchains.
Then, there's Solana Pay – a peer-to-peer payment system launched last week that allows online merchants and point-of-sale providers to accept and settle payments in different coins.
Solana has shown that it is much more than just some other blockchain platform. Right now, investors should be thrilled with how far they've come.
4. Decentraland (MANA)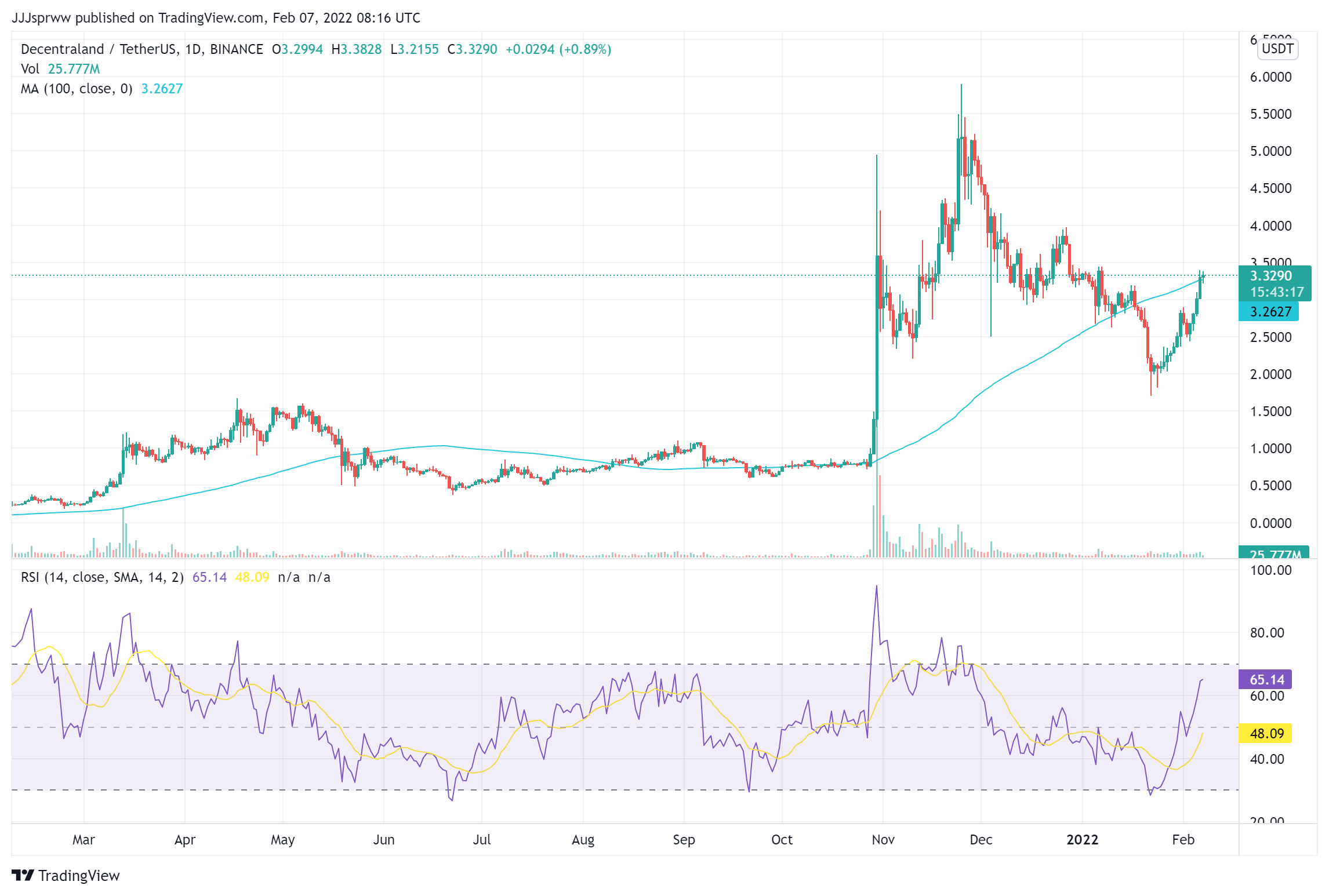 Decentraland is fast becoming one of those crypto platforms that need no introduction. This play–to-earn game has become a hit in the market, successfully showing what a crypto-powered metaverse could look like.
With everyone falling over themselves to get to the metaverse, Decentraland has been a cash grab. Several celebrities and brands have already built lots in Decentraland, grabbing a slice of the metaverse and showing off.
Over the past month, celebrities (including rapper Ice Cube) and brands (including Vogue Magazine and beverage manufacturer Miller Lite) have all trooped into Decentraland to explore the universe.
Still, the metaverse platform also appeals to regular people. Last weekend, an Arizona couple had their wedding in Decentraland.
This increase in demand is expected to continue, and this shows huge prospects for MANA. Investors should watch out for sure.
5. Aave (AAVE)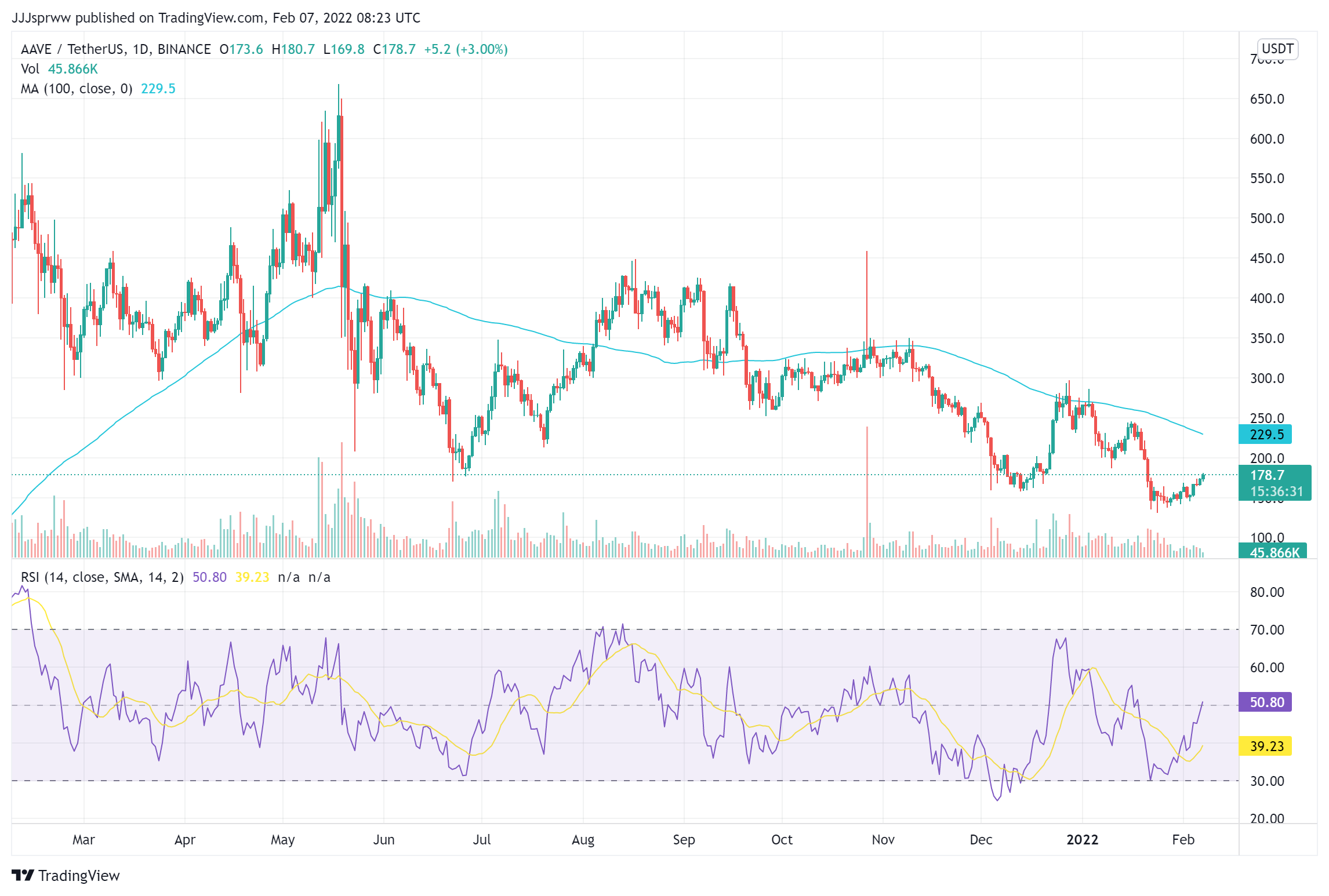 Aave is another platform that needs no introduction. It is one of the most popular decentralised finance (DeFi) protocols, offering seamless and instant lending opportunities for people tired of the traditional lending space.
AAVE features on our list of the top crypto to buy because it is a DeFi blue-chip asset. The market is mimicking the broader crypto space's bullish move, and we expect coins like AAVE to see huge gains if the momentum continues.
Interestingly, AAave has also been on an expansionary move. Last week, a cross-chain proposal on Aave passed, possibly opening the door for the Ethereum-based platform to expand to the Polygon blockchain.
According to the Aave development team, this is a major step forward in building multi-chain governance systems. Aave's impending growth is sure to inspire AAVE investors as the market looks to get out of its bearish rut.
Read more:
How to Buy Lucky Block Coin
How to Buy Decentraland Coin