6 Best Meme Coins to Buy – August 2022 Week 2
The crypto market is more or less static in the past 24 hours. Its total cap has lifted by a modest 0.4%, reaching $1.17 trillion. This represents a 6.8% jump since Wednesday, although the market is actually down by 5% in the last seven days. This mixed picture is reflected by individual coins, with some cryptocurrencies rising more than others in the past week or so. However, with the market still down compared to highs from last year, it's due a big rebound rally once macroeconomic conditions improve. This will also likely be the case with meme coins, which can suffer badly during downturns but beat the market during bull runs. As such, here's our pick of 6 best meme coins to buy right now.
6 Best Meme Coins to Buy
1. Tamadoge (TAMA)
TAMA is a deflationary meme coin that recently kicked off its beta presale. Running on Ethereum, it will be the native token of pet-themed metaverse when users can mint NFT-based pets and look after them.
Its presale ends in the final quarter of 2022, with interested investors able to purchase TAMA tokens via its official website in exchange for either ETH or USDT. Impressively, it has already raised $1 million, which is halfway to its target of $2 million.
1 Million (And 25 thousand) USDT Raised!!!😆

(Remember when this presale at 2 Million USDT ends… you will miss out on the 25% price increase!)

GET TAMADOGE-ING!!!🐶https://t.co/KslTA9IYXV pic.twitter.com/OqX3wkE5Xu

— Tamadoge (@Tamadogecoin) August 9, 2022
In contrast to many other new meme coins, TAMA promises strong fundamentals. This will come from its surrounding metaverse, which will offer play-to-earn dynamics. For instance, players will be able to battle their Tamadoge pets and earn rewards for doing so, while they can also sell their NFT-based Tamadoges.
Encouragingly, Tamadoge has already accumulated over 30,000 followers on Twitter. Given that it opened its account as recently as July, it suggests serious traction, which is why it's one of our 6 best meme coins to buy.
Tamadoge – Play to Earn Meme Coin
Earn TAMA in Battles With Doge Pets
Capped Supply of 2 Bn, Token Burn
NFT-Based Metaverse Game
Presale Live Now – tamadoge.io
2. Lovely Inu Finance (LOVELY)
Launched in October 2021, LOVELY is the native token of DeFi platform Lovely Inu Finance. It's down by 11% in the past 24 hours, at $0.000000637666. However, despite also being down by 24% in the last seven days, it's up by 142% in a fortnight and by a whopping 1,270% in a month.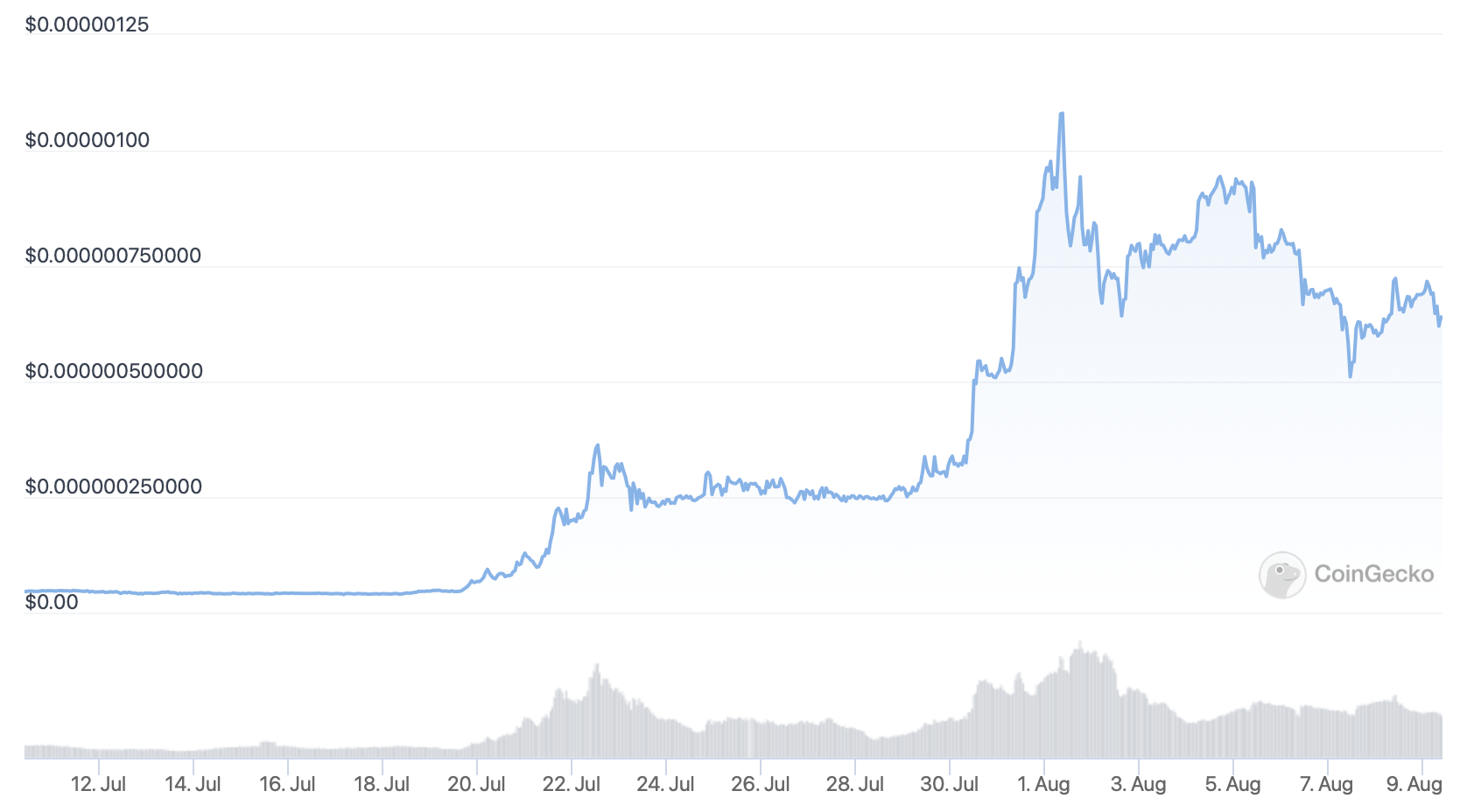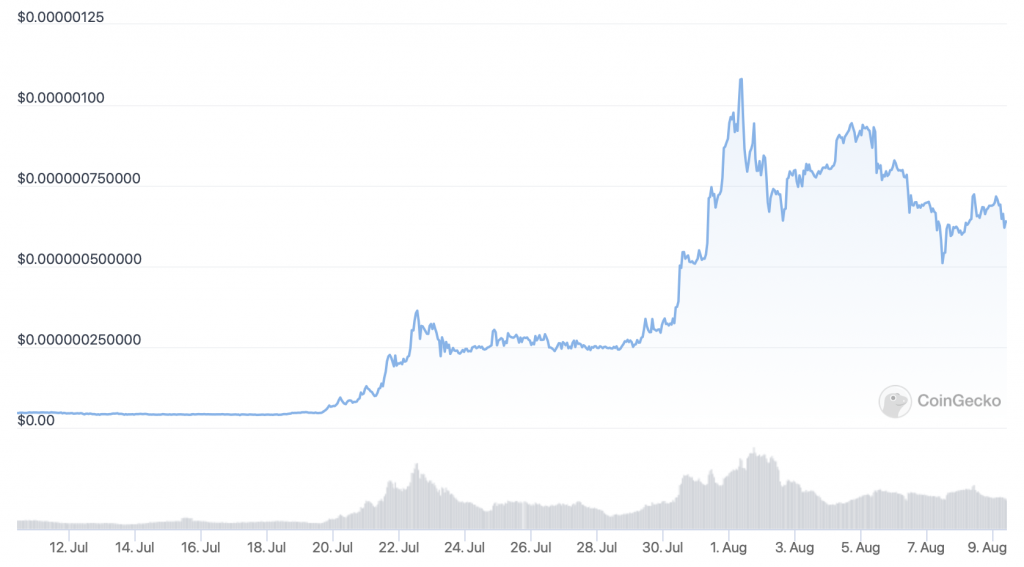 LOVELY is down by 42% from an all-time high of $00000111, which was set a week ago. On the other hand, it's over 3,300% up from an all-time low set in May.
Half-meme coin, half-DeFi coin, LOVELY has rallied big in the past few weeks because it marked a series of new exchange listings, including on Huobi, Bibox, Babyswap, ZT, and — most recently — Gate.io.
Happy Lovely Inu Day🥳

30th July – Bibox
1st August – Babyswap
3rd August – ZT
5th August – https://t.co/7OKtCmGauM

7th, 9th, 11th, 13th, 14th, and 16th(exclusive) date of Listing Exchange Names will be announced soon#lovelyinufinance #lovelyinutürkiye #lovelyinu pic.twitter.com/p5TgPpSDZv

— Lovely Inu Finance (@Lovely_finance) July 30, 2022
The Lovely Inu DeFi ecosystem includes the Lovely Swap DEX, which runs on Binance Smart Chain. It also includes a Lovely Inu wallet that lets users not only hold tokens, but trade and earn yields from them.
LOVELY has a max total supply of 60 trillion, with several burning events already having taken place to push its supply down. This contrasts with many other meme tokens, which have unlimited supplies. Taken together with its expanding community of 257,200 Twitter followers, this constrained supply suggests a bullish future. This is why it's one of our 6 best meme coins to buy.
3. Battle Infinity (IBAT)
Running on Binance Smart Chain, Battle Infinity (IBAT) is a new play-to-earn crypto gaming platform. It launched its token presale a couple of weeks ago, and reached its hard cap of 16,500 BNB (about $5.3 million) with 71 days left to spare. In other words, the sale is now over, with BSC Scan revealing that it now has 5,000 holders.
The reason why its presale has been such a success is that Battle Infinity is developing an interesting sports-themed gaming metaverse. This will consist of a variety of games, such as the IBAT Premier League. The latter enables players to put together their own fantasy sports team, comprising NFTs of real-life athletes. They will win points — and ultimately IBAT tokens — based on how well their teams do.
With its development team largely in India, Battle Infinity is also working on additional crypto and NFT-based games, as well as a competitive staking feature, its own DEX and an NFT marketplace. This makes it a very promising meme coin to watch, and given how quickly is presale sold out, we can expect it to rise soon after its initial listings.
🙌🏼Battle Stake is our staking platform where you can battle against stakers to get higher APYs.

There are 3 types of staking that we are introducing:
•SOLO STAKING
•DUO STAKING
•CRATES STAKING

#staking #battleinfinity #presale #StakingRewards pic.twitter.com/bYzIobl8Bh

— Battle Infinity (@IBATOFFICIAL) July 18, 2022
Buy IBAT Now in Presale
4. Dogecoin (DOGE)
DOGE is up by a modest 1.4% in the past 24 hours. At $0.072157, it's also up by 5% in a week, by 16% in a fortnight and by 3.8% in a month.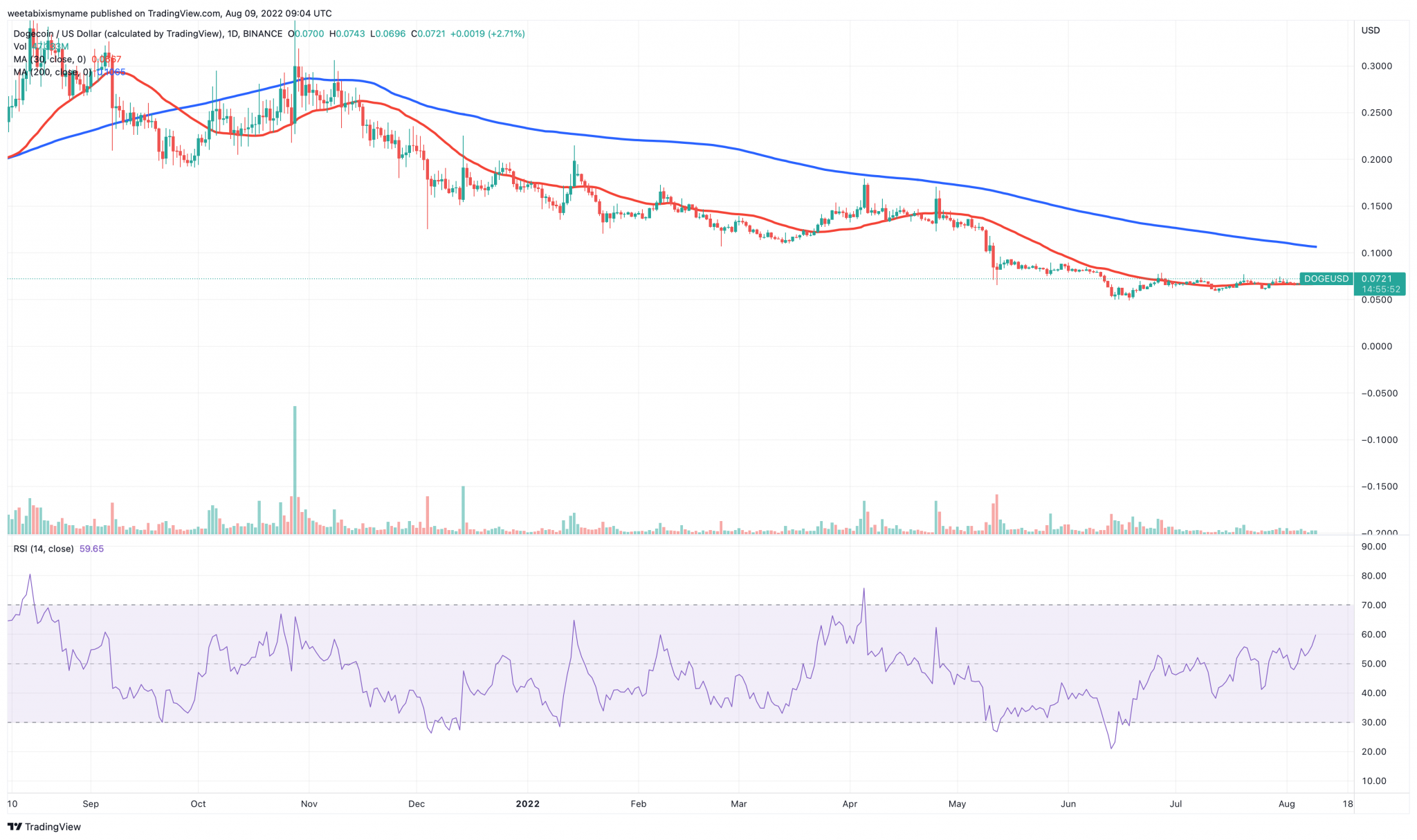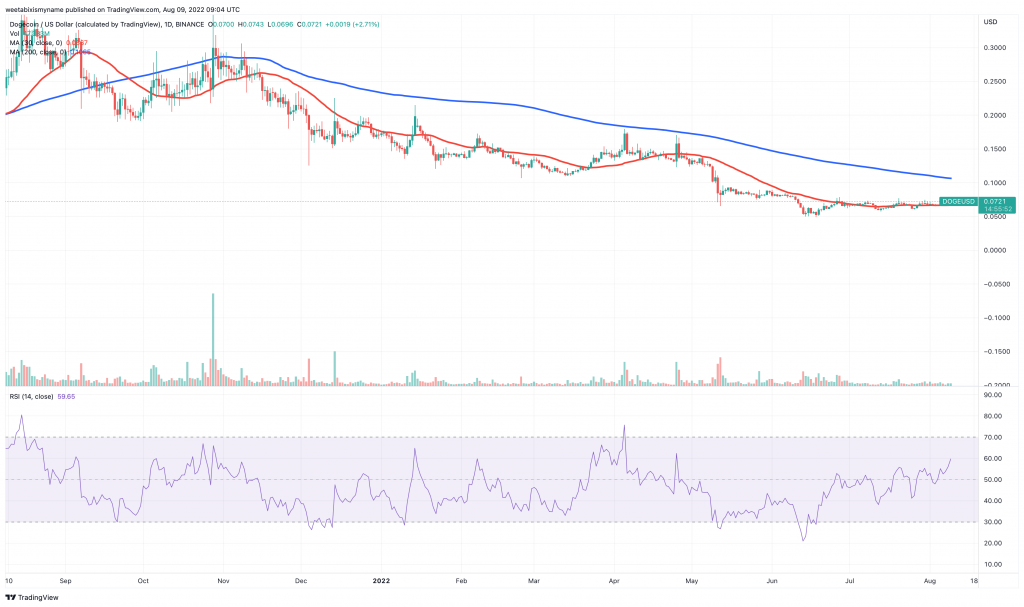 DOGE's indicators reveal a coin that's steadily on the path to recovery. Its relative strength index (in purple) has risen from 20 in mid-June to 60 today. This suggests good momentum, as does its 30-day moving average (in red), which is rising to overtake its 200-day average (in blue). Assuming it begins crossing it, this could signal a breakout.
The original meme coin, DOGE has had an interesting year. It rallied back in late March and April, after Twitter accepted a $44 billion takeover offer from Tesla CEO Elon Musk. This deal now seems uncertain in its current form, but assuming it does go ahead it could result in a big boost for Dogecoin. The reason being that Musk has long been a vocal proponent of DOGE, and could potentially even implement DOGE-based payments on Twitter if he gains ownership of the latter.
💯

— Elon Musk (@elonmusk) March 27, 2022
More generally, DOGE continues to boast a strong following. It counts 3.4 million followers on Twitter, as well as 2.3 million subscribers on Reddit. This community is sizeable enough send DOGE's price flying if enough positive news comes its way, which makes it a meme coin to watch out for.
5. Baby Doge Coin (BABYDOGE)
At $0.000000001504, BABYDOGE has risen by 15% in a day. It has also risen by 20% in a week, by 27% in a fortnight and by 6% in 30 days.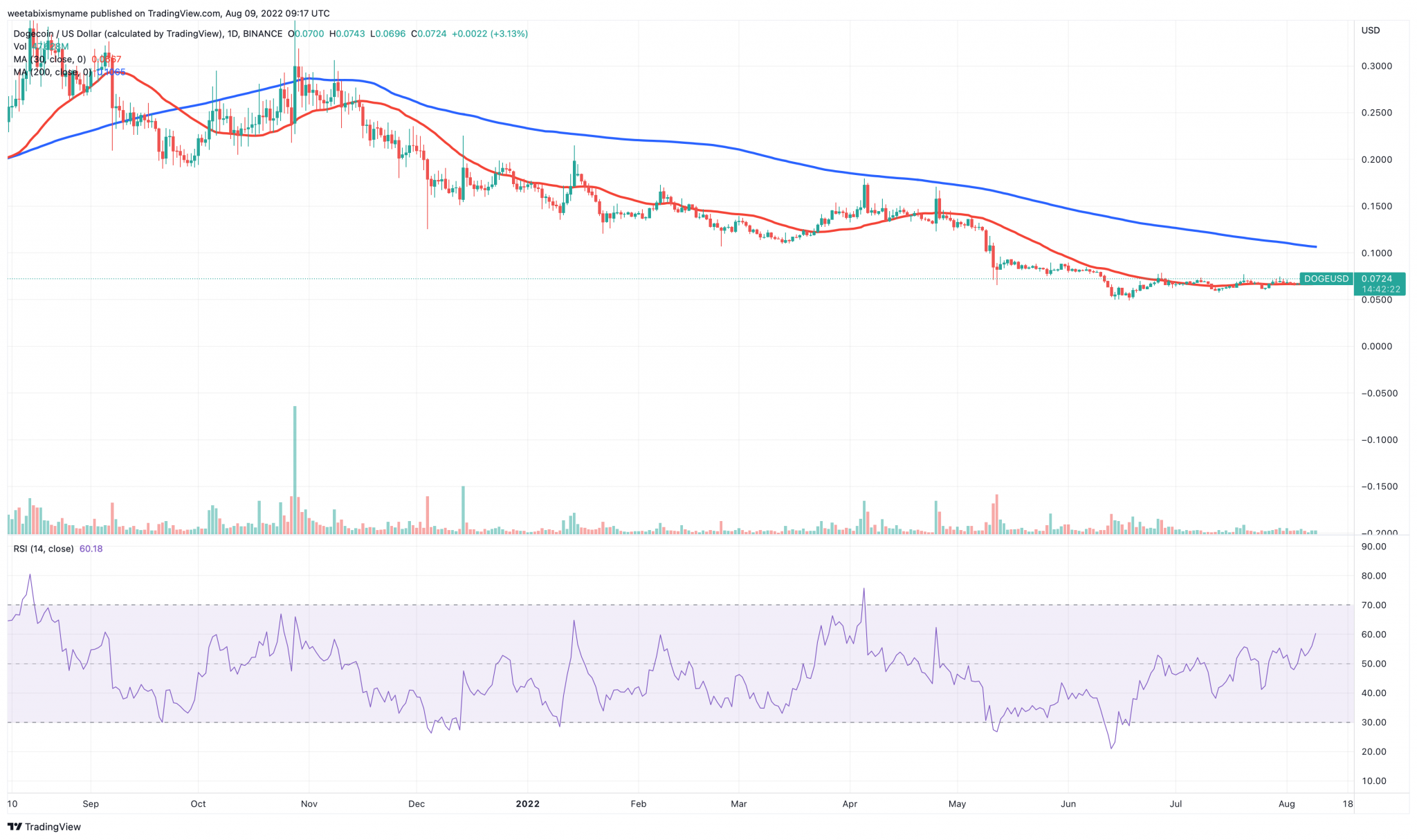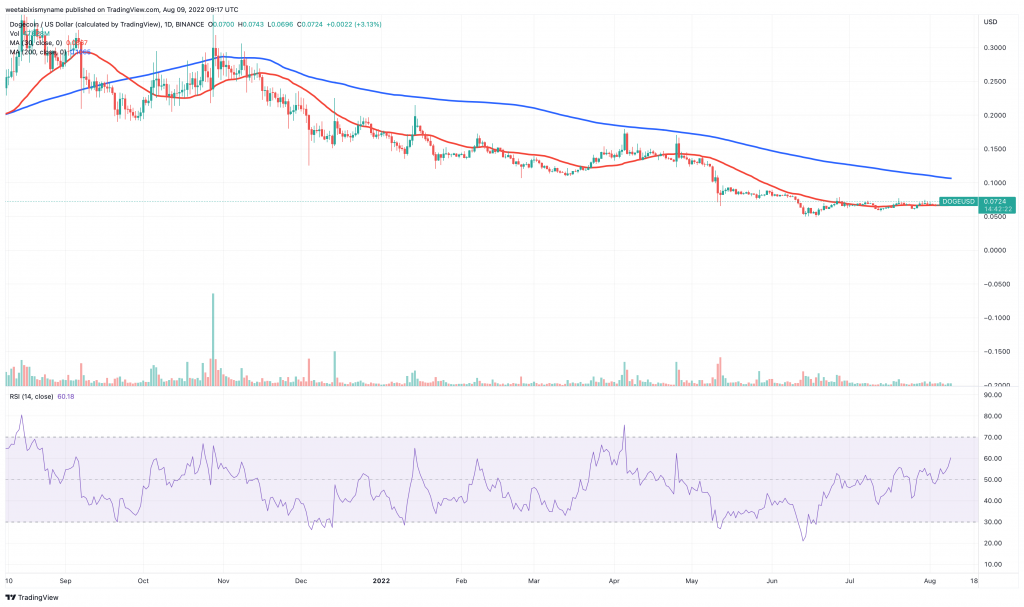 BABYDOGE's indicators mirror DOGE's, showing steadily rising momentum without signalling a big rally. However, given that indicators had been down for so long, the meme token may surge if market conditions become more positive.
Launched last June, Baby Doge Coin is a meme coin running on Binance Smart Chain. In contrast to Dogecoin (no relation), it has been designed to be deflationary. It has a buyback mechanism that results in the burning of coins. So with a fixed max supply of 420 quadrillion BABYDOGE, it should — all other things being equal — witness price appreciation over the long term.
Today we're not only celebrating 50 Quadrillion burn but also the 1 year anniversary since @elonmusk tweeted #BabyDoge !

The biggest blessing to thousands of people worldwide we are forever grateful! pic.twitter.com/GWYdkau61N

— Baby Doge (@BabyDogeCoin) July 1, 2022
Interestingly, Baby Doge has teased a "major announcement" for today. However, as of press time, it hasn't revealed any details, so interested parties will have to keep watching its Twitter (which has 1.5 million followers).
Major announcement coming tomorrow…

— Baby Doge (@BabyDogeCoin) August 8, 2022
6. Shiba Inu (SHIB)
SHIB has fallen by 4% in the past 24 hours, down to $0.00001191. This means it has dropped by 0.9% in a week, but is up by 11% in a fortnight and by 2% in a month.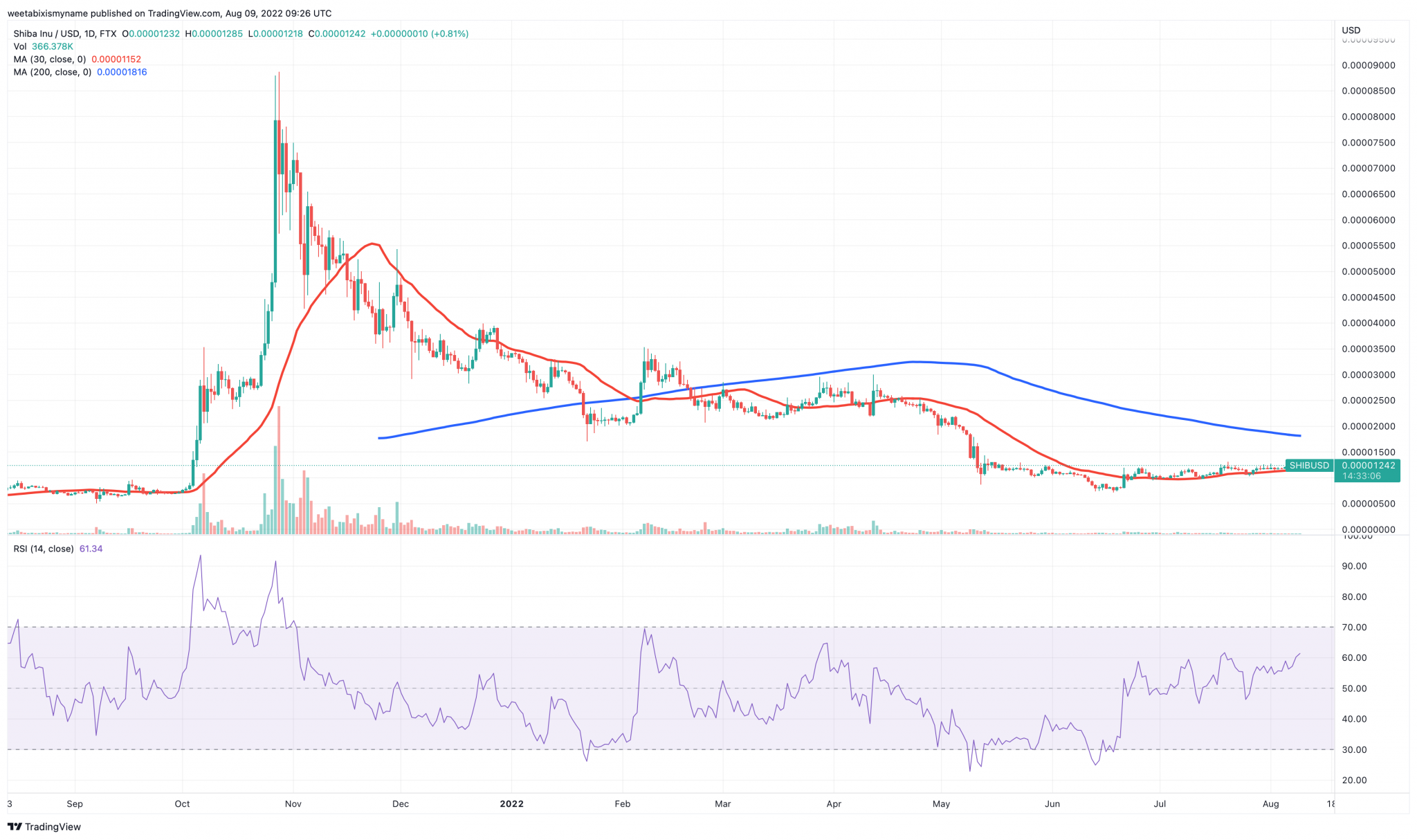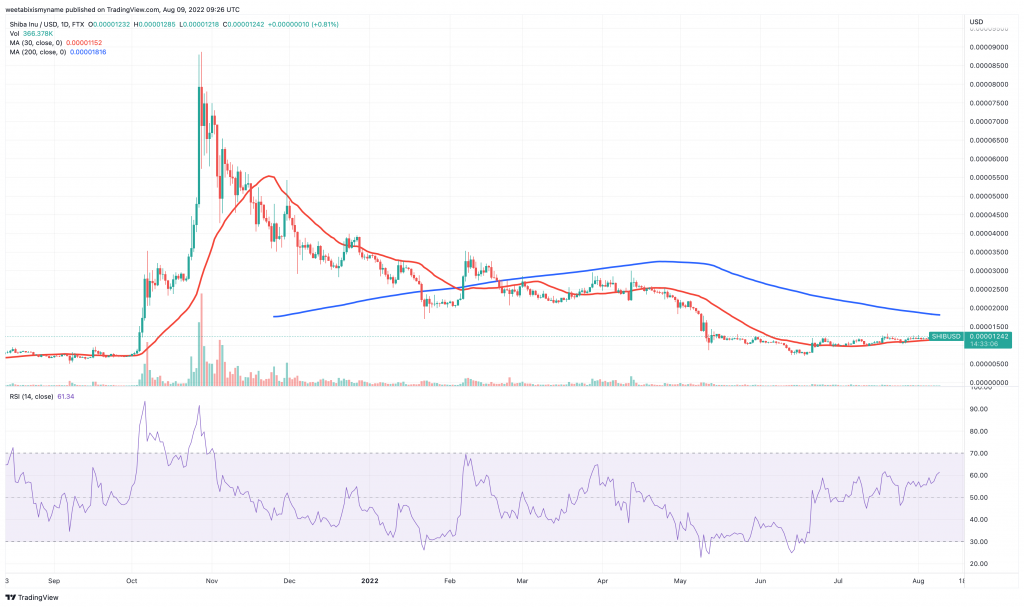 SHIB's indicators have risen a little more aggressively than other meme coins in recent weeks. Its RSI has passed 60, suggesting decent momentum, while its 30-day average is on the rise.
After DOGE, Shiba Inu is the biggest meme token in the cryptocurrency market. There are plenty of reasons to believe it will continue being one of the biggest.
For instance, it continues to announce major partnerships and integrations, with SHIB's inclusion on Binance's Binance Card being the most recent.
We are pleased to announce that @binance has added SHIB to the list of supported tokens for the Binance Card issued in Europe.

You can now pay with SHIB at 60+ million merchants worldwide. Furthermore, get up to 8% cashback and zero annual or FX fees!https://t.co/0Xj7IXPyt0 pic.twitter.com/FqINtnHFWx

— Shib (@Shibtoken) August 5, 2022
Another major piece of Shiba news is that it will be releasing its very own video game, Shiba Eternity. This will be a card-collecting game, available on iOS and Android devices. In addition to the much-awaited Shiba Inu Metaverse, this shows that SHIB is more than just a simple meme token, and is gradually developing a whole ecosystem to support it. This is why it's one of our 6 best meme coins to buy now.
We are proud to reveal the name of the Shib CCG game, Shiba Eternity™!

We are working alongside @PlaysideStudios on a testing schedule and exciting release!

The game will be available in both the Apple App Store and Google Play Store.

Game on #ShibArmy with #ShibaEternity! pic.twitter.com/iJnyMUVZWb

— Shib (@Shibtoken) August 2, 2022
Capital at risk
Read more:
How to buy cryptocurrencies
Where to buy Battle Infinity
How to buy Tamadoge
How to buy Dogecoin