Bitcoin Bearish Warning After Meme Coin Frenzy, FLOKI, PEPE, STX, May. 8
BTC
Bitcoin has been the subject of bearish warnings after a surge in meme coin trading volumes to two-year highs.
Coindesk cited data from Dune Analytics which showed that last week's $2.3 billion meme coin trading volume could mark a top. The latest trading volume was the highest since May 2021, when Bitcoin traded at above $60,000 and went on to lose 50% of its value. 
The speculative frenzy was driven by Pepecoin (PEPE), which is a frog-themed token launched in mid-April with a huge supply of 420 trillion coins. PEPE was able to top a $1 billion market capitalization on Friday, with a peak of $1.82 billion. 
Another headwind for Bitcoin is that fees on the blockchain have surged to two-year highs due to increased demand from 'Bitcoin Request for Comment' (BRC-20) tokens and the rising popularity of the Ordinals protocol.
Average transaction fees on the network were trading near $20 on Monday, which is a big surge from last week's average of $1.20. Again, these levels have not been seen since May of 2021. The number of non-fungible tokens (NFT) on the Bitcoin blockchain surged above 3 million last week. Cryptocurrency exchange Binance caused worry for investors as it paused withdrawals for a second time in 24 hours.
Ethereum co-founder and leader of Cardano, Charles Hoskinson, is also worried about the effects of the banking crisis as big banks get more powerful:
I believe that the crisis in 2023 has cost us around $540 billion so far. We've only just begun. When you give that whole business model a little shove, it starts to break apart because you lose organizations like Silicon Valley Bank and they become so globally and politically polarized.
The price of Bitcoin lost 2% of its value on Monday and trades below $28,000, with the first support level coming at $27,000.
PEPE
The PEPE coin caused another speculative frenzy as the three-week-old coin surged 500% in just two weeks.
The move higher in the PEPE coin was also driven by a big short squeeze as bearish traders lost millions in the run. CoinGlass data showed that shorts against PEPE lost at least $11 million on several exchanges in just 24 hours, with traders losing $5.5 million on the OKX exchange. Traders also lost $2.2 million on Huobi and $3.6 million on Bybit.
News reports highlighted another big winner in the PEPE meme frenzy. A trader by the name of dimethyltryptamine.eth spent $263 three weeks ago to buy trillions of PEPE tokens. That sum was turned into a cash out of $3.8 million in profits, with the trader still holding $9 million, according to data by Arkham Intelligence- an almost 5,000,000% profit.
Pepe the Frog is an internet meme created by artist Matt Furie, that first appeared in 2005. Pepe soon became associated with political factions and was used as an internet troll figure by many supporters of Donald Trump. That has given the current meme coin its popularity and has helped the trading frenzy gain further steam. 
The price of PEPE is likely to continue its volatility in the week ahead and both longs and shorts could be risky.
FLOKI
Floki was another gainer this week as the Shiba-Inu-themed token rose 11%.
Floki started life as another Dogecoin-lite meme token but the project is working to create utility on the platform with play-to-earn gaming and other features.
Valhalla is Floki's play-to-earn NFT metaverse with a viking theme and is backed up by the project's NFT marketplace. Users can also access a Floki prepaid card and load it with Floki tokens. The money can then be spent with GooglePay or ApplePay.
Floki has also moved into decentralized finance with the release of FlockFi and its locker, which has now risen to a total value locked of $30 million. FlokiFi is the brand name for a further suite of decentralized finance products that will be launching under the Floki brand. The FlokiFi Locker for securing digital assets with Liquidity Pool (LP) tokens, NFTs, fungible tokens, and Multi-token. 
With the last week's price gains, the project has moved into the top 100 at number 99, with a market cap of $340 million.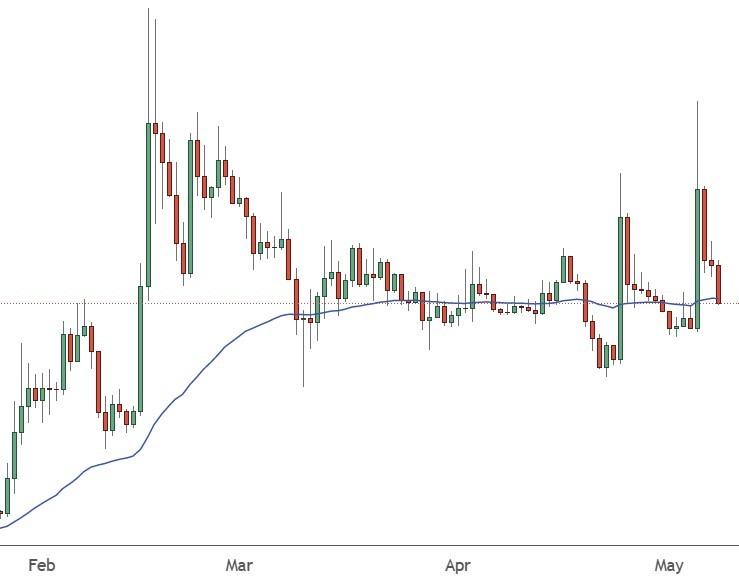 The price of FLOKI currently trades at $0.000035, after recent highs above $0.000050.
STX
Stacks was the second-largest gainer this week at 22% as the project continues to benefit from the Bitcoin Ordinals growth.
Along with the Lightning Network, the Stacks project is considered to be one of the more promising layer-2 technologies for Bitcoin which can help to ease the recent congestion on the network.
There are now over 400,000 unconfirmed transactions in the Bitcoin meme pool, with transactions added to the pool, where they await selection from a BTC miner and get inserted into a BTC block.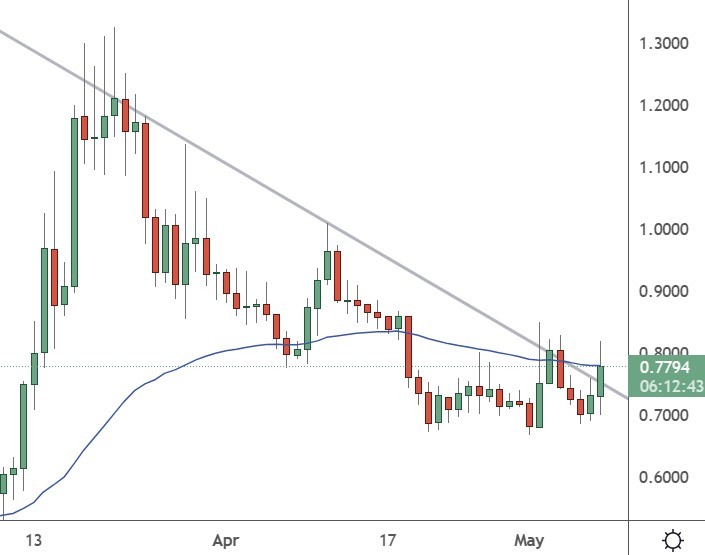 The price of STX is looking to break out of a recent downtrend and could capitalize on the continuing congestion on the BTC network.