Bitcoin (BTC) Price Prediction: BTC/USD Struggles To Reclaim the $58,000 Support As Bulls Regain Bullish Momentum
Bitcoin (BTC) Price Prediction – April 9, 2021
Since March 14, Bitcoin bulls have been struggling to break the $60,000 psychological price level but to no avail. For the past week, the BTC/USD price has been trading near the resistance zone to break the overhead resistance. It is argued that consolidation near a resistance zone increases the chances of a breakout.
Resistance Levels: $58,000, $59,000, $60,000
Support Levels: $40,000, $39,000, $38,000
BTC price now fluctuates between $57,000 and $60,000 as buyers attempt to push Bitcoin above the $60,000 overhead resistance. About 48 hours ago, the bears succeeded in sinking Bitcoin to the low of $55,681. Nevertheless, Bitcoin has recovered as bulls buy the dips. Besides, buyers are attempting to break the $58,000 resistance. Today, if buyers reclaim the $58,000 support, the upside momentum will resume. The $60,000 overhead resistance will be retested again. In the previous attempts, buyers breached the overhead resistance but could not sustain the bullish momentum above it. Today, the BTC price is trading at $58,043 at the time of writing.
More Russians Disclose Their Incomes From Cryptocurrency Operations
According to a Consulting firm, such as PwC Russia, Russians have been reporting their income from cryptocurrency operations. The Russian news agency Izvestia indicated that Russians disclose their income from crypto trading for tax purposes. Evgeny Sivoushkov is the director of PwC Russia's division of individual taxation. The director indicated that interest in disclosing crypto holdings has increased during the ongoing tax declaration period which ends on May 1. According to Sivoushkov," the new trend was fueled by the adoption of Russia's crypto law ". According to the new legislation, Russian residents are to pay income tax from cryptocurrency trading. The bill which had its first reading in February required residents to report crypto transactions if their total amount exceeds 600,000 rubles ($7,800) on an annual basis.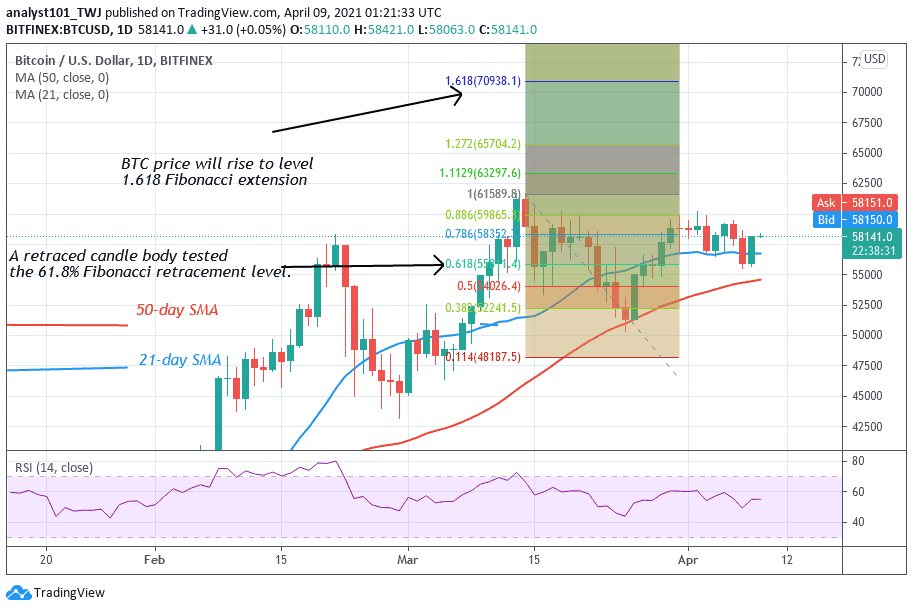 Meanwhile, buyers are struggling to break above the $58,000 resistance. If successful, a retest at the $60,000 overhead resistance is likely. Secondly, the Fibonacci tool analysis is likely to hold. On March 15, a retraced candle body tested the 61.8% Fibonacci retracement level. This retracement gives the impression that BTC price will rise to level 1.618 Fibonacci extension or the high of $70,938.10.