Dogecoin Price Forecast for August 4th: DOGE May Trend Upwards
In this Forecast, we shall examine both the DOGE/USD and DOGE/BTC. We will be looking at what's developing, and what traders should anticipate from this development. Considering this market in general, we can see that DOGE/USD pair is more likely to trend upwards from here. While, on the other hand, the DOGE/BTC is more likely to trend downwards.
Dogecoin Forecast Statistics Data:
Dogecoin's price now: $0.0682
Dogecoin's market cap: $8.99 billion
Dogecoin circulating supply: 132.7 billion
Dogecoin's total supply: 132.7 billion
Dogecoin Coinmarketcap ranking: #11
Important Levels:
Ceiling levels: $0.0682, $0.0690, $0.0698
Floor levels: $0.0677, $0.0638, $0.0618
We shall be studying the two aforementioned markets, and discover what to anticipate. This will be done with the help of trading analytical tools, to determine the right trading decisions to make.
Dogecoin Price Forecast: DOGE May Witness Upside Value Gain
On the DOGE/USD daily chart, there are signs indicating that the value of this crypto may rise. Looking at the chart, it can be seen that the moving average lines are cutting across the last bullish candle. Also, it can be perceived that part of this last candle stays above the lines. This implies that if the next candle that forms here is bullish, the MA lines will fall below the price motion. Subsequently, this will be increasing the chances of this line crossing under the price candle. Eventually, when this happens, the price of this crypto will be pushed upwards.
Additionally, another sign of a possible uptrend is coming from the Stochastic RSI indicator. We can see that the threads of this Indicator were initially trending downwards before attempting another cross. Eventually, if this cross should occur, this implies that the Dogecoin price may reach $0.0750 or $0.0800. Consequently, traders should anticipate these levels.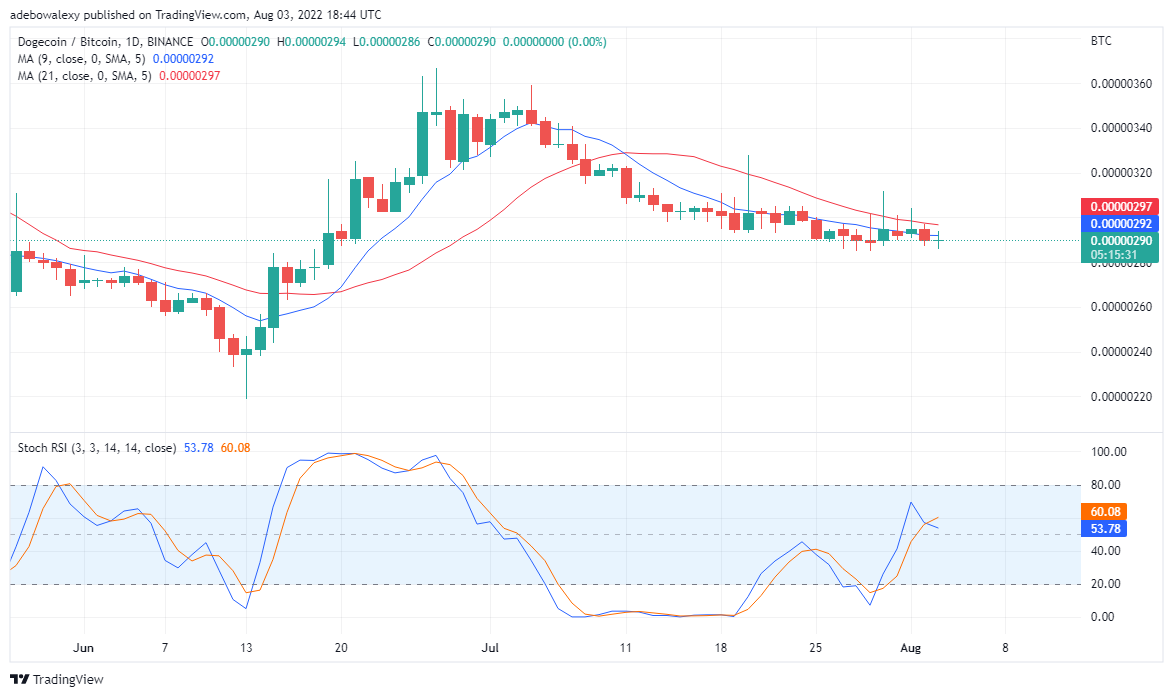 Dogecoin Price Forecast: DOGE/BTC May Trend Downwards
DOGE/BTC daily chart shows that the value of Dogecoin against Bitcoin may plummet. Looking at the indicator here, we see that the MAs here are above the price motion. Consequently, this generally indicates a downward trend. Although the MA lines are close to the price candlesticks, the odds are remains in favor of a downward trend.
Additionally, the activities on the Stochastic RSI don't portray an uptrend. This is because these Indicator threads have crossed each other on their way up. Although these threads aren't pointing downwards, pointing sideways, therefore it is likely that the downtrend will continue in this particular market. Traders may go shot to avoid further losses, as the market DOGE/BTC may find lower support.
Battle Infinity – New Crypto Presale
Presale Until October 2022 – 16500 BNB Hard Cap
First Fantasy Sports Metaverse Game
Play to Earn Utility – IBAT Token
Powered By Unreal Engine
CoinSniper Verified, Solid Proof Audited
Roadmap & Whitepaper at battleinfinity.io