Ethereum Coin Price Prediction for August 9th: ETH Uptrend May Reverse
Ethereum has been able to gather some significant gains in recent times. However, there are signs that the uptrend may be getting weaker. Although this may be a minor correction, nevertheless it is worth noting. With the help of trading tools on this chart, we shall be analyzing the ETH/USD market and what to anticipate from it.
Ethereum Coin Forecast Statistics Data:
Ethereum Coin's current price: $1778.47
Ethereum Coin market cap: $217.1 billion
Ethereum Coin circulating supply:121.1 million
Ethereum Coin total supply: 121.1 million
Ethereum Coin Coinmarketcap ranking: #2
This Forecast will also look at the performance of the Ethereum coin as against the Bitcoin. We'll consider factors that affect value movements in this market. And, finally, for both ETH/USD and ETH/BTC we will try to deduce some trading decisions from the analysis which we've carried out on this market.
Important Marks:
Resistance levels: $1690, $1680, $1608
Support levels: $1623, $1686, $1786
Ethereum Coin Price Prediction: ETH Portraying Signs of Weakness
Signs of uptrend weakening have been spotted on the ETH/USD daily chart. On the chart, we could see that although the 9/21-days moving average stays below the price action, it seems things may change soon. Looking at the faster blue MA line, we can see that it is now very close to the price action. furthermore, the nearness of these lines portrays the nearness of a price correction or at least sideways raging. So, if eventually, the MA lines should engulf the price candlesticks Ethereum value will range sideways. And, on the other hand, if both MA should cross above the price action this will plunge this crypto price
Adding to this are the activities shown on the Stochastic RSI. Here as well, we can see that the faster line of this Indicator has started bending towards the slower line. The eventual occurrence of this cross will initiate a trend correction, which may bring the value of this crypto to around $1500. Therefore, long-term Traders who have bought Etereum 11th of July should position a sell order at $1500. This should be done to curve losses should the trend reverses.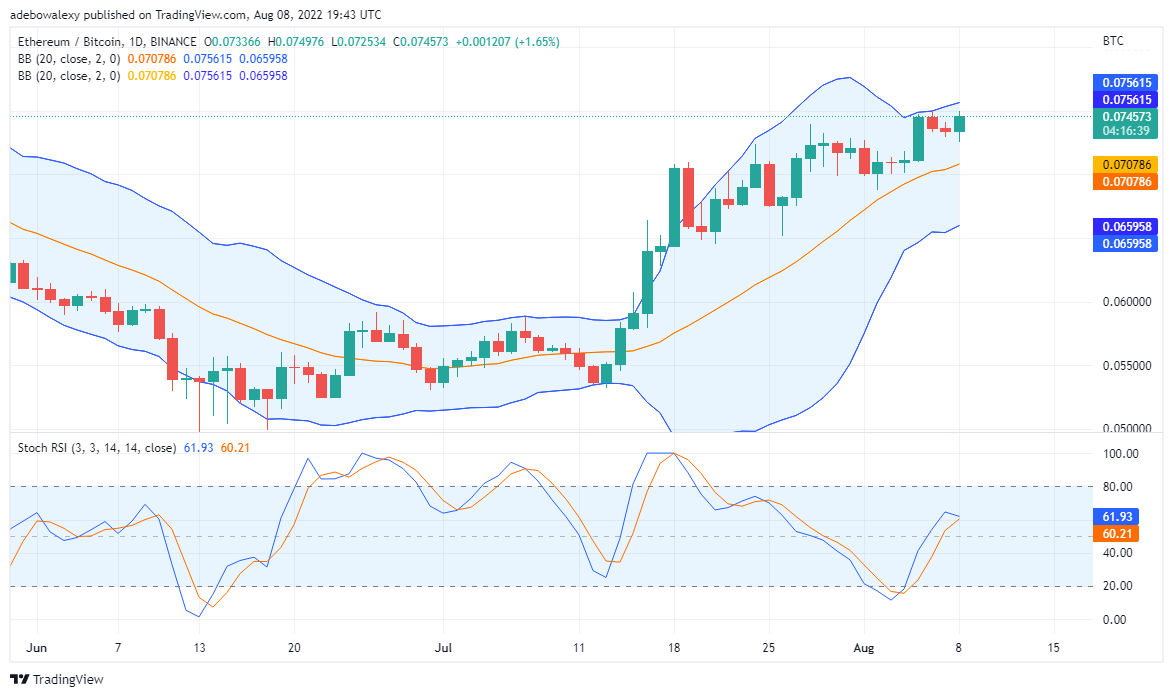 Ethereum Coin Price Prediction: Weakness in the ETH/BTC market is more Evident
In the ETH/BTC market, the daily chart reveals obvious signs of trend weakening. Looking at this chart one could see that a significant value rally occurred within mid last month till now. Also, we can see that price motion has reached the upper band of the Bollinger band. However, we can see that the middle band of the indicator is getting closer to the price candle. We deduce that with the volatility in the market the appearance of a bearish candle will plunge the price of this Ethereum. This is because once price motion crosses below the middle band of the Bollinger indicator, this signifies a downtrend.
Looking at the Stochastic RSI we'll see that the curves of this are almost meeting at a point. Subsequently, this indicates that a trend correction is about to occur. Traders in this market should place a stop loss of around 0.07030. This will fade out a false trend reversal as changes in Bitcoin or Ethereum value will influence this market in either direction.
Tamadoge – Play to Earn Meme Coin
Earn TAMA in Battles With Doge Pets
Capped Supply of 2 Bn, Token Burn
NFT-Based Metaverse Game
Presale Live Now – tamadoge.io