Meme Coin Price Predictions – Tamadoge to Overtake Floki Inu, Dogelon Mars and Safemoon Inu
Meme coins like Dogecoin (DOGE), Shiba Inu (SHIB) and Dogelon Mars (ELON), among other tokens, have in the recent past been preferred by investors who wish to make quick gains in this dynamic market. Perhaps, with the entrance of Tamadoge, a new meme coin, the massive gains associated with these tokens will return.
Tamadoge is a new meme coin on the block and its beta sale is only a few days old but has already raised over $93,000 from investors.
During the most recent bull run, these tokens gained immense recognition. Market participants took them up as alternatives to buying Bitcoin (BTC) and Ethereum. They also offered opportunities to diversify risks through the creation of well-rounded portfolios.
To a great extent, the ongoing crypto winter has changed this narrative. Predictions in the market suggest that this downtrend may not end soon. It is worth mentioning that meme coins find themselves between a rock and a hard place. The situation is more challenging for projects with little to no utility.
Your capital is at risk
New Tokens Emerge In The Bear Market
Although the market may look bloody and unresponsive, new projects are still being introduced. Some crypto projects like Tamadoge (TAMA) are already showing great potential.
Tamadoge is the latest addition to the Doge ecosystem, promising to push the boundaries of the play-to-earn space, the NFT sector and the larger metaverse. TAMA powers Tamaverse, allowing an innovative use of NFTs with Tamadoge pets.
Why Tamadoge Stands Out In The Crowd
Unlike Dogelon Mars, Safemoon Inu and Floki Inu, Tamadoge utility has always been at the center of its existence. The team, rumored to have come from other top meme coin projects, has the vision to build a platform for users to buy Tamadoge pet NFTs. Players will feed the pets and prepare them for battles in monthly games to create value.
The idea is to allow Tamadoge NFTs to integrate into existing metaverse environments as we know them. In other words, users will have the opportunity to interact with the broader metaverse ecosystem, a true definition of breaking boundaries.
Tamadoge will also offer augmented reality experiences through the Tamadoge app. This application will take the user literally anywhere to explore all possible avenues. In addition to interacting with different metaverse environments, Tamadoge will build its own Tamaverse so holders can shape the virtual world as they wish.
Tamadoge Beta Presale
The Beta presale kicked off on July 25, 2022, and will run until September 2. The team will also conduct a general presale in the fourth quarter of 2022. Investors can buy TAMA with either ETH or USDT.
There is no set minimum or maximum investment. However, it is recommended to purchase tokens worth $150. The beta presale price has been fixed at $0.01, which means $100 will buy 10,000 TAMA. Investors can use either Metamask or Trust Wallet to buy TAMA and take advantage of the no vesting policy.
Tamadoge Set To Overtake Floki Inu, Dogelon Mars and Safemoon Inu
Meme coins like Floki Inu, Dogelon Mars and Safemoon are in a precarious situation. The main focus for these meme coins is to find a solid footing so that recovery can begin. However, the general outlook of the market offers very little hope for investors.
Floki Inu Down 96% From All-Time Highs
Floki Inu is one of the key dog-themed but mainly paying homage to Shiba Inu. The token brings together the power of memes, utility and charity. The team says its focus is to give the people the opportunity to buy Floki Inu and make the most of their investment, thus tipping the scales from venture capitalists and hedge funds.
Like other meme tokens that launched during the bull run in 2021, Floki Inu saw gains of more than 5,700x. Nonetheless, Floki Inu corrected massively, erasing more than 96% of its value from an all-time high of $0.0003365.
According to the chart below, FLOKI recently hit a bear market bottom at $0.0000048. At the time of writing, the token had advanced to trade at $0.00000883.
This recovery may continue in the coming days; investors must consider FLOKI's position below the Ichimoku Cloud, which will likely keep weighing the prices down. Although the project boasts an active community on Twitter and other social channels, its current value is significantly low.
Buy Floki Inu
Your capital is at risk
Dogelon Mars Struggles To Regain Bullish Momentum
Dogelon Mars is a meme coin project that pays tribute to Elon Musk's mission to take humans to planet Mars. The platform has an exciting story of Dogelon Mars exploring the galaxy. He also shares his desire to recolonize the planet he once called home with the help of the friends he made in his many voyages through the stars.
Meanwhile, the crypto winter has seen Dogelon Mars price trade 85% below its all-time high. The token gained stability in June, anchored by support established at $0.0000002. However, its recovery seems weak due to the resistance at $0.0000004.
The daily Moving Average Convergence Divergence (MACD) reveals that buyers have the upper hand, and ELON is expected to range between $0.0000003 and $0.0000004 in the near term.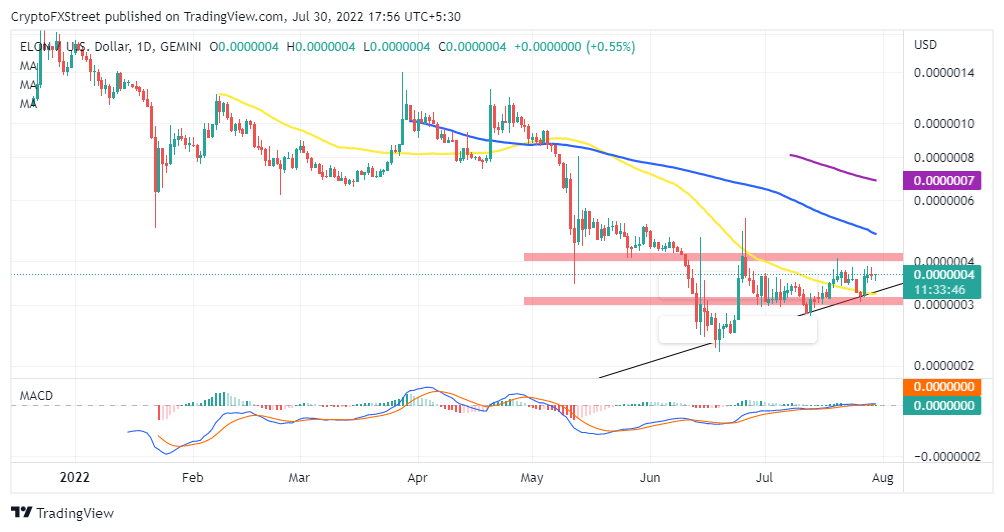 Buy ELON on Coinbase
Your capital is at risk
Safemoon Inu Price Downtrend Is Far From Over
Safemoon Inu is a community-centered meme and gaming token. The project stands out from the crowd for distributing 2% of every transaction to users to incentivize the community.
Like many other meme tokens trying to create utility, Safemoon Inu is developing a metaverse gaming platform to incorporate in-game NFTs. Rewards earned from the games can be used within the metaverse or traded on its Altura marketplace.
Despite these developments, Safemoon Inu has been unable to break from the downtrend. In the last 24 hours, SMI plunged by another 5% to exchange hands at $0.00000568 at the time of writing. Its recovery could be hampered in the coming weeks and months, depending on the overall performance of the crypto market.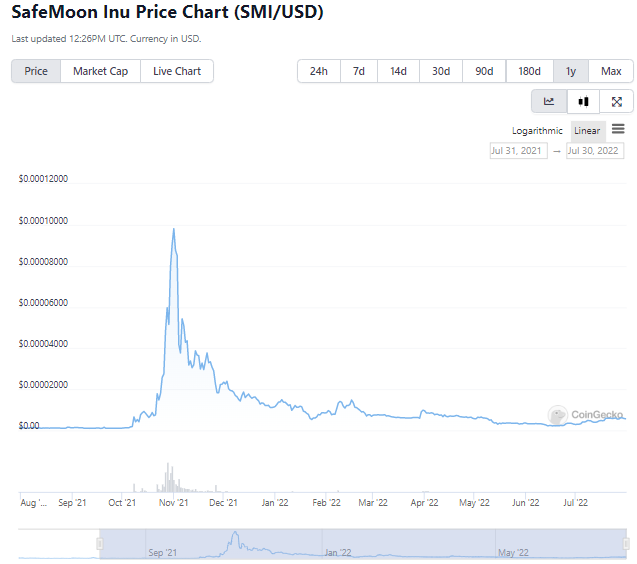 Conclusion:
The cryptocurrency market is highly volatile, making price prediction a challenge. Specifically, the meme coins' value changes drastically due to the influence of their communities and mentions by prominent industry names like Elon Musk.
However, Tamadoge has come to circumvent most of these factors to provide value to all its adopters. The team has also developed a solid whitepaper supported by a roadmap created with utility in mind. According to our meme coin price prediction, Tamadoge has the potential to overtake Floki Inu, Dogelon Mars and Shiba Inu.
Read More
Best Meme Coins to Buy 2022
Tamadoge Presale Gain Investors From the Doge and SHIB Club
Floki Inu resumes aggressive marketing in London despite regulatory risks